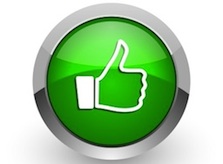 While June ushered in volatility and a market correction, See It Market was busy churning out some high value content. Special thanks go out to our contributors and readers. We continue to grow organically through fresh, real-life takes from passionate professionals.
Highlights from the month of June include the continuation of our successful launch of our exclusive "Market Masters" series. This educational series includes some of the finest minds in the industry. This month included guest blogs from market technicians Andrew Nyquist, Madison Montana, and Andrew Kassen. Check out the Market Masters series here.
Lastly, we continued our interview series with an exclusive interview of the Tadas Viskanta, founder and creator of Abnormal Returns.
Okay, now let's move on to the good stuff. It's time to reflect on the month of June with the latest installment of The Best of See It Market. The blogs below include the most-viewed and shared blogs for the month, in no particular order. Hope you are enjoying the holiday weekend!
THE BEST OF SEE IT MARKET – June
Investing
Crude Oil Looks Ready For Move Higher  by Korey Bauer
Bull Market Bend of Break: Key Levels to Watch  by Sheldon McIntyre
Why Investor Confidence Is King  by Andrew Nyquist
My Twist on the Cash Covered Put Strategy  by Randall Liss
Analyzing Cloudy Markets with Ichimoku  by Andrew Kassen
Time Price Analysis Highlight June 7 Importance  by Maria Rinehart
Insights Into Breaking a Trading Slump  by Ross Heart
Emerging Markets Performance Checkup: BRIC vs Ex-Bric  by Jeff Wilson
VIX Fear Index Near Recent Extremes as SPX Tests Support  by Chris Burba
Corporate Profit Margins: A Different Take  by Max Moore
Chartology
Forex in 2013's First Half: The Resurgent US Dollar  by Andrew Kassen
AAPL Technical Support: Double Bottom or Another Whoosh?  by Andrew Nyquist
Market Commentary
Interview With Abnormal Returns Founder Tadas Viskanta  by Alex Salomon
Fed Policy: Uncle Ben and the Ill Communication  by Andrew Kassen
Commodities Video Blog: Commitment of Traders Report Analysis  by Alex Bernal
Personal Finance
Why Traditional Financial Planning Is Failing Many  by Jeff Voudrie
Thank you for reading, commenting, and supporting See It Market. If you are interested in contributing, please contact Andy Nyquist at andrew@seeitmarket.com – Enjoy the rest of your weekend!
Look for another installment of The Best of See It Market next month.
Twitter:  @andrewnyquist and @seeitmarket