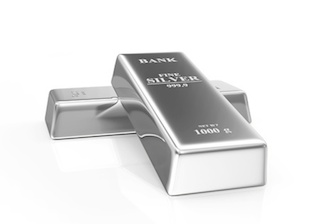 Wow, Silver has had quite a ride since futures opened last night. Interesting thing, though, is that Silver prices came down into our target zone for a bottom.
In late September 2014 I wrote a post pointing to a Silver bottom at 14 dollars, which would mark an end to a lengthy corrective pattern.
The latest steep drop and reversal in Silver prices says we may have reached a bottom. The price action has now set up a very nice 3 drives to a bottom (shown by the orange arrows) that completes right at our target area price near 14.
The question is "if" (the big if) the top in the high 40's was a wave 3 or a 5? I do not know and believe a case can be made for both. Either way, the $14 level represents the following:
IF the high 40's was a 3 then we just about complete with a classic 3-3-5 correction and this will now be a 4 at 14 and we'll likely see new highs.
IF the high 40's was a 5 then we just completed a big A (a-b-c) and a rally up into 26 will be wave B with another C wave lower to come.
Either way, I believe a risk controlled long at 14 or so (out with daily close below 12) could target 26 (the long standing support cliff) at a minimum. Risk $2 to make $12?
Have a great week and thanks for reading the post.
Spot Silver Prices – Daily Chart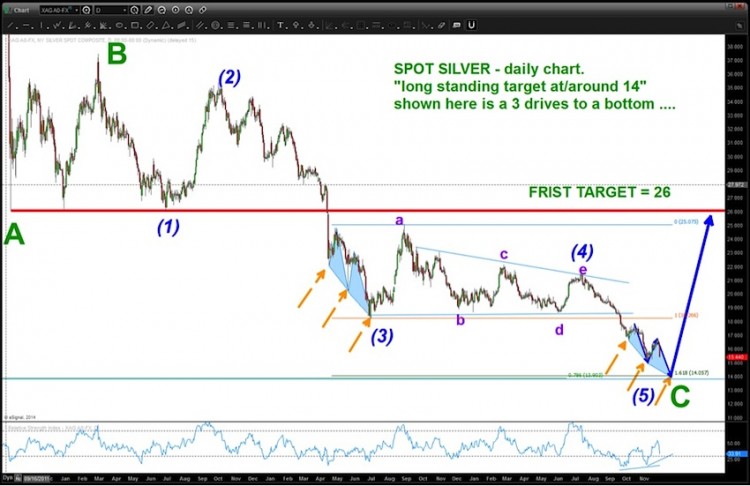 Follow Bart on Twitter:  @BartsCharts
No position in any of the mentioned securities at the time of publication. Any opinions expressed herein are solely those of the author, and do not in any way represent the views or opinions of any other person or entity.