There is still no meaningful evidence of any real reversal in Equities, but we are entering a timing zone for one.
Treasury yields dropped throughout yesterday's session and were 3 bps lower into the close.
Crude oil, which also spiked sharply in yesterday's trading, has reached near-term targets and might also stall out and reverse in the next few days.
Bottom line, a reversal in all three is increasingly likely between now and January 15 which could give back at least half of recent gains.
Looking back, following the Fed minutes, Equities spiked, but yet gave back some of that by end of day. However, we still saw higher highs and a higher close. There needs to be some evidence of a reversal and/or down day to think stocks are reversing.
The Dollar dropped sharply and arguably this is also trading in an area where this can change trend as well… along with Treasury yields , Crude oil and Equities, so all of these should be watched carefully in the days ahead.
The one key piece of the puzzle that looks important is the reversal in 10-year yields… put it on your radar as Financials head into next week's earnings.
Bottom line, I expect upside could prove limited here and a peak in stock prices looks likely in the next few days along with Crude and Treasury yields, the latter which looks to have begun Wednesday.
Chart Spotlight: Russell 2000
Russell 2k has now gained roughly 15% in the last 9 trading days, a pretty incredible feat. However, at current levels, it's unattractive to buy here given the presence of this strong overhead resistance, and technically speaking, it's right to consider reigning in longs with prices at a key juncture both based on former lows as well as trendline resistance. See that prices now have moved back to test the area near former lows (which should now contain this advance. Both based on the trend down in recent months and also prior lows, there is limited upside here near-term, in my view. One can consider selling Russell futures with stops at 1500 and targets down near prior lows at 1250.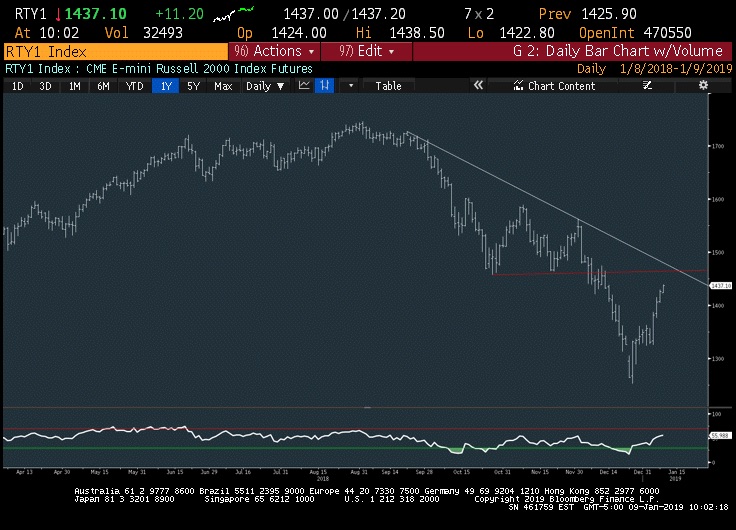 If you have an interest in seeing timely intra-day market updates on my private twitter feed, please follow @NewtonAdvisors.  Also, feel free to send me an email at info@newtonadvisor.com regarding how my Technical work can add alpha to your portfolio management process.
Twitter:  @MarkNewtonCMT
Author has positions in mentioned securities at the time of publication. Any opinions expressed herein are solely those of the author, and do not in any way represent the views or opinions of any other person or entity.