In a world full of dark, cynical stories and lives that get noisier thanks to notifications on a multitude of apps, there was one notification this week that set my heart singing and provided legitimate joy. It truly is the little things…
The Unicorn Frappe announcement by Starbucks (NASDAQ:SBUX)!
A wave of posts whizzed around Twitter. Including mine, which did not go unnoticed by Starbucks who gave me a nice response.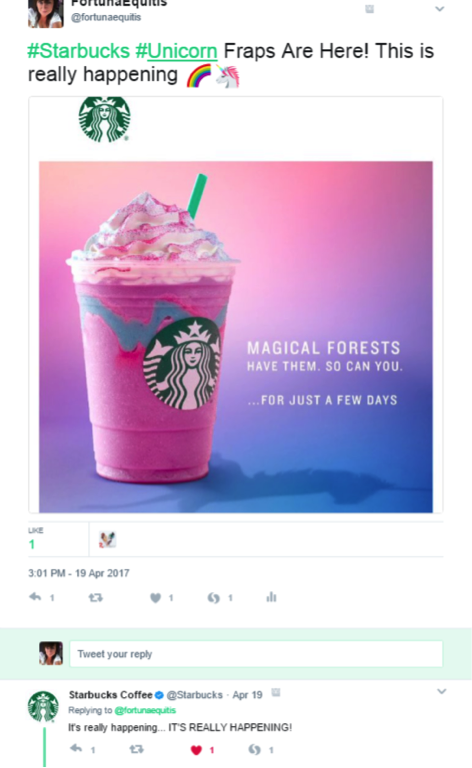 The app from Starbucks is successful, and while the restaurant group of stocks has suffered incredible losses by the shift in consumers' choices, this app can pull consumers back in with the ability to load money onto your app for future purchases. You get where I am going?
According to some clever observations from Chris Kane in his article "Starbucks Gold Mine, "your prepayments guarantee that you will return to spend the rest of your balance or Starbucks gets free revenue and that "using the Starbucks app increases your spending. Buying coffee does not feel like spending money when you are earning rewards too." There's more magic behind Starbucks, beyond that fabulous new Unicorn Frappuccino. According to Chris Kane (CEO of munchmoney.com), the magic gold mine is in their own non-debit prepaid loyalty cards. Because Starbucks receives funds instantly when the card has loaded…and even gets a small profit boost from the monies left on card which aren't redeemed after a reasonable period. Starbucks is sitting on a massive pile of cash because of this app."
There are two more reasons to get excited found inside the technical analysis of Starbucks stock chart $SBUX as well. The weekly stock chart shows that after a bit of a downtrend since October 2015 relative to $SPX there is now a relative strength breakout and a weekly breakout pattern in price. These are the Twin Unicorn patterns that we like to see when searching for actionable choices that return the treasure to your portfolio's.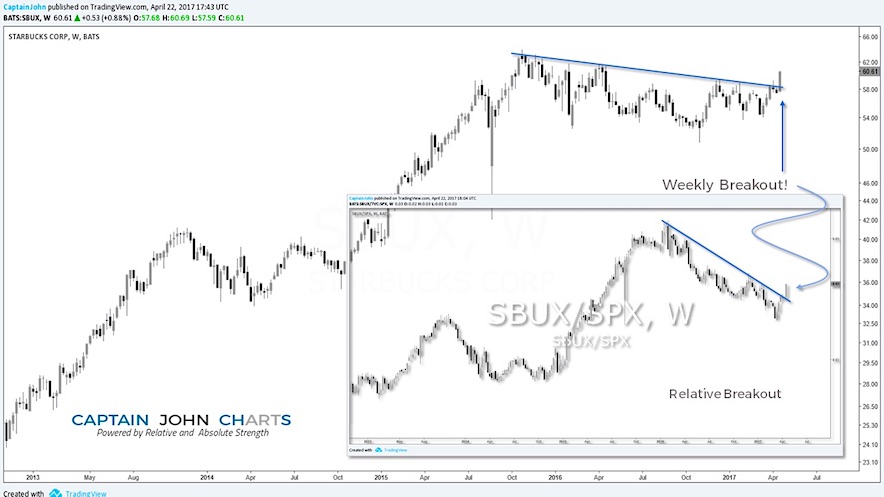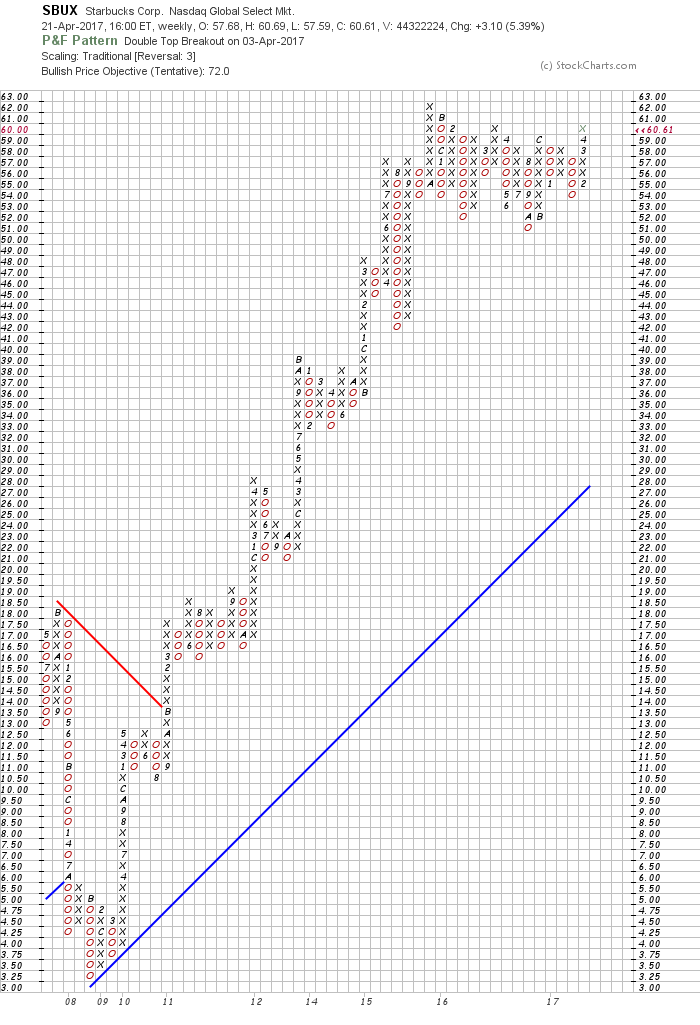 The Point and Figure chart shows Starbucks trading well above the bullish support line. The Double Top breakout on April 3rd put a nice green X in the final column at $60.61. Right now, the bullish price objective is at 72 and if it plays out this could be a fantastic investment opportunity.
Thanks for reading and good luck out there!
ALSO READ: Microsoft (MSFT) Massive Base Breakout Continues
Twitter:  @CptJohnCharts
StockTwits:  @CaptainJohn
Any opinions expressed herein are solely those of the author, and do not in any way represent the views or opinions of any other person or entity.