The sixteen plus year massive breakout continues to roll on for Microsoft (NASDAQ:MSFT).
"The bigger the base, the higher in space" is a stock market technician's adage. Alan Shaw, and analyst at Smith Barney, Harris Upham & Co., said in 1985 that he had two guidelines: "The bigger the base, the bigger the rise; the bigger the top, the bigger the drop." The slightly different "the bigger the base, the bigger the move" was cited in print in 1988, and "the bigger the base, the higher in space" was cited in a 1998 book by Louise Yamada. That is, a big company at the bottom can have a big upside. (Source: https://www.barrypopik.com).
Massive Base Breakout Continues in Microsoft Stock (MSFT)!
We LOVE to see Long Term breakouts like this, especially when accompanied by Relative Strength breakouts vs. a Major Index like the S&P 500.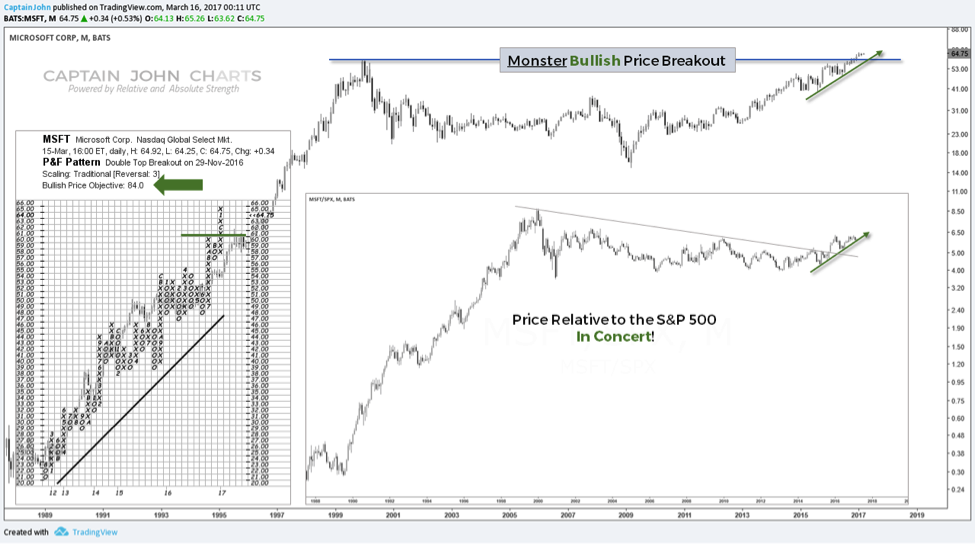 Embedded in the chart above is also a Point & Figure Chart, it's the chart that shows alternation between a column of X's and O's. These charts can be helpful in trying to determine price objectives.
In the case of MSFT the first upside objective is 84, offering great risk / reward for investors on the long side in my opinion.
Thanks for reading and good luck out there!
Twitter:  @CptJohnCharts
StockTwits:  @CaptainJohn
Any opinions expressed herein are solely those of the author, and do not in any way represent the views or opinions of any other person or entity.