S&P 500 Index Trading Outlook (3-5 Days): Neutral but Bullish above 3098 for move to 3113 / Bearish under 3065
The S&P 500 has now gone sideways for the last eight trading days.
A stallout has occurred but we have yet to see a reversal.
The S&P 500 is trading in a tight range, with no hint as to what lies in store in the days ahead.
Market breadth did turn out positive yesterday, but volume was heavier in Down vs Up stocks.
Also, the largest gains were seen in REITS, whereas Technology, Energy, and Healthcare were all negative.
S&P 500 Index Futures Chart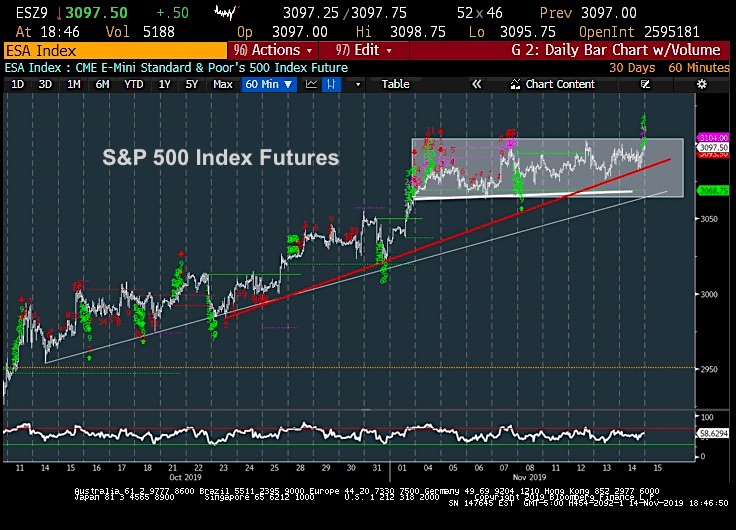 We'll need to see a decisive breakout in either direction to think anything is changing. For now, the trend remains very much neutral in the short run, and this range of 3063-3100 needs to be respected.
The big development in recent days was the plummeting in Treasury yields, which have dropped off sharply at a time when Equities simply haven't paid attention. This has resulted in Utilities and REITS both rallying, but yields look to be near support, and one could also consider shorting into XLU and VNQ, thinking that yields try to bounce, and send these indices both lower.
Outside of these, there is some minor evidence that the US Dollar could be close to peaking out again, and both EURUSD and GBPUSD look to be close to bottoming out and moving higher. This should allow for EEM to find a floor in the coming days, and for Commodities to turn back higher to new monthly highs. For now, we've only seen minor evidence of exhaustion, but should be close in the days ahead of weakening.
If you have an interest in seeing timely intra-day market updates on my private twitter feed, please follow @NewtonAdvisors. Also, feel free to send me an email at info@newtonadvisor.com regarding how my Technical work can add alpha to your portfolio management process.
Twitter: @MarkNewtonCMT
Author has positions in mentioned securities at the time of publication. Any opinions expressed herein are solely those of the author, and do not in any way represent the views or opinions of any other person or entity.