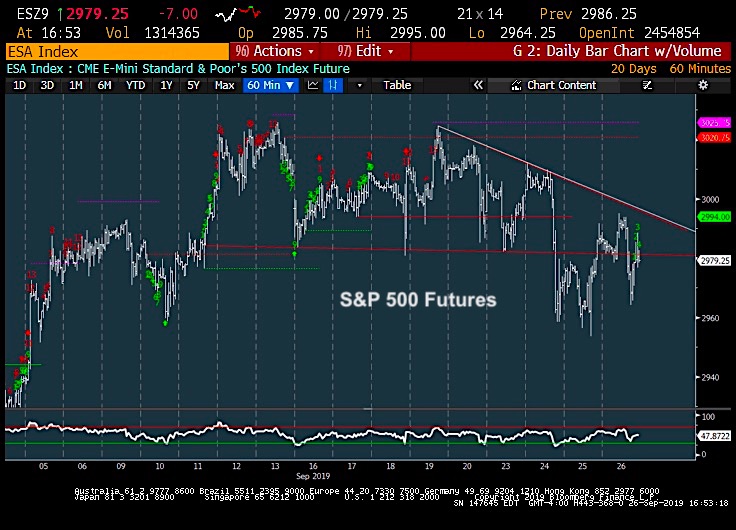 S&P 500 Index Trading Outlook (3-5 Days): Bearish
The current stock market pullback should be close to conclusion into the end of month and quarter (next Monday).
However, we cannot rule out a final retest and break Friday which likely would be buyable.
2953 important down to 2940 as support, while 3000 key on upside.
The S&P 500 is still trending lower since September 13, yet the pullback has lacked any real force to the downside.
As of end of month, following the peak from 9/13, when both Treasury yields and S&P peaked, the S&P 500 has lost less than 25% of the prior range from mid-August. We've seen some real choppy behavior amongst different sectors. Yet, prices have held in pretty well. While a defensive trade has been ongoing, it's tough to make much of recent weakness as being all that important until/unless 2940 is broken.
TD Buy Setups will be in place heading into October on any pullback under Wednesday's lows. Thus, declines into end of week/month/quarter should not be considered all that damaging, for now.
If you have an interest in seeing timely intra-day market updates on my private twitter feed, please follow @NewtonAdvisors. Also, feel free to send me an email at info@newtonadvisor.com regarding how my Technical work can add alpha to your portfolio management process.
Twitter: @MarkNewtonCMT
Author has positions in mentioned securities at the time of publication. Any opinions expressed herein are solely those of the author, and do not in any way represent the views or opinions of any other person or entity.