I often refer to the Russell 2000 and the Nasdaq as the "beta brothers".
The reason is simple: Tech stocks and small cap stocks tend to offer a little extra juice during a bull market or a bull "swing" trade.
Currently, tech stocks are leading the way higher. The Nasdaq is inching closer to a retest of its all-time highs.
The Russell 2000, not so much. The small cap stock index is 11 percent off its all-time highs and it hasn't even taken out its February highs. This divergence is worth watching, in my opinion.
Note that the following MarketSmith charts are built with Investors Business Daily's product suite.
I am an Investors Business Daily (IBD) partner and promote the use of their products. The entire platform offers a good mix of technical and fundamental data and education.
Russell 2000 Index
The small caps are really lagging here. The latest rally stalled right at the downtrend line. This makes the divergence with the market leading Tech sector all the more glaring.
So what needs to happen to "fix" the smalls? First, they need to take out the downtrend line. Second, they need to take out the February highs.
The first could occur and keep the broader rally running until late March. The second, not likely in the short-term.
The major indexes are showing some signs of exhaustion, so I'm on guard here. Late innings of this nearly 3 month rally.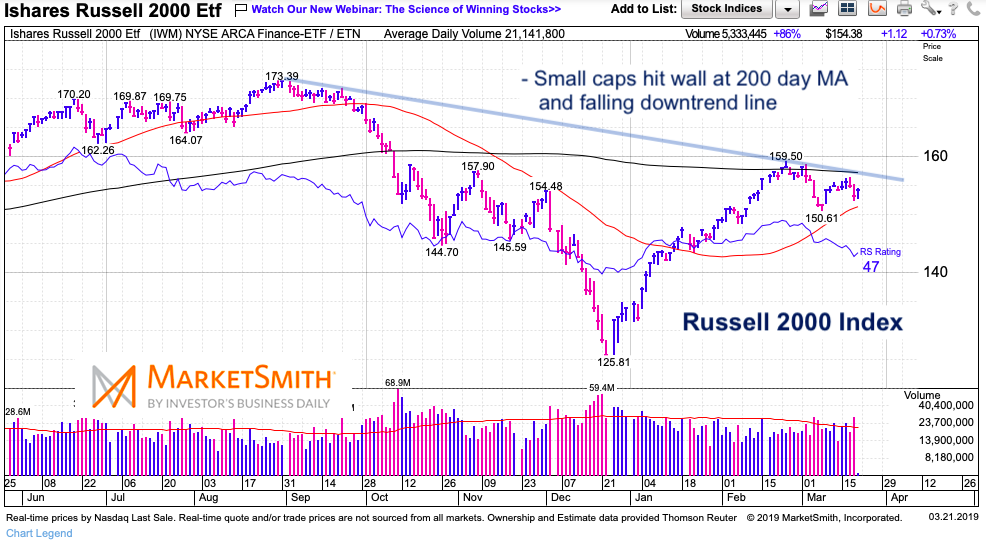 Twitter: @andrewnyquist
The author has a position in mentioned securities at the time of publication. Any opinions expressed herein are solely those of the author, and do not in any way represent the views or opinions of any other person or entity.