Investors in gold are sitting on some nice year-to-date gains for 2019.
However, much of those gains came during a big rally higher from late May through late August. Since topping in August, Gold has spent 10 weeks backing an filling (i.e. pulling back).
The good news is that Gold hasn't broken any major Fibonacci retracement price levels. That said, it's concerning that the pullback has lasted 10 weeks.
In today's chart spotlight, I will highlight some key Fibonacci levels and price support for active investors to watch, while discussing a few other technical and fundamental indicators to watch.
Note that the following MarketSmith charts are built with Investors Business Daily's product suite.
I am an Investors Business Daily (IBD) partner and promote the use of their products. The entire platform offers a good mix of technical and fundamental data and education.
$GLD Gold ETF "Daily" Chart
As you can see, the Gold ETF (GLD) peaked in late August and has been in a downtrend channel (pullback) since. The pullback recently hit the 38.2 Fibonacci level – whether this holds remains to be seen.
Note that the 50 and 61.8 Fibonacci retracements are within the July consolidation zone (and prior breakout area). So while, this area seems like a natural magnet price zone, investors do not want to see GLD breach the $130 area on a closing basis.
GLD bulls would like to see price breakout above the downtrend line.
On the fundamental side, interest rates are suppressed so bulls are hoping/anticipating low rates will bring inflation to the fore. Market volatility (which also helps Gold prices) has been absent. So an uptick in volatility (VIX) may help Gold and GLD. Lastly, a falling US Dollar helps Gold The Dollar is trading at 97.87, off its 1 year highs of 99.33. With this in mind, precious metals bulls want the Dollar to continue falling.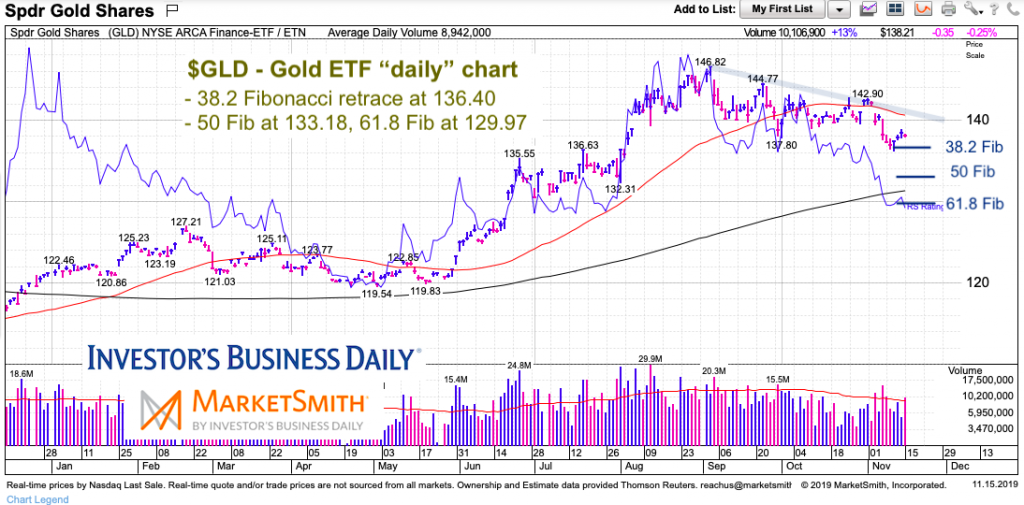 Twitter: @andrewnyquist
The author may have a position in mentioned securities at the time of publication. Any opinions expressed herein are solely those of the author, and do not in any way represent the views or opinions of any other person or entity.