As a technical trader, I layer into trades largely based off the price action. In other words, I monitor price support and resistance levels (from patterns to Fibs to MA's to congestion) and monitor technical indicators at these levels. This also provides me with a means of measuring my risk (i.e. I get a good idea of where I am wrong). But sometimes even the best technical setups fail… All I can say is welcome to the market. Nothing is fair and there aren't any free lunches.
This brings me to one of the most followed commodities on the planet… Crude Oil. And a pattern and technical setup that seems obvious. BUT as most traders know, obvious doesn't always equate to $$$…
Below is a chart of crude oil spot prices showing a bearish rising wedge pattern. And further below is a 2nd chart showing horizontal price resistance along with a measured move pattern to $51.68 (…call it $52ish).
Also read Chris Kimble's:  Gold Prices: Will This Rising Wedge Pattern Spell Trouble?
Will this confluence of resistance work to repel crude oil prices?  Will this setup work?  I don't know. Quite frankly, we never know.
But the weight of the evidence allows us to put together a "probability" picture for a trade plan and to measure risk. If we know where we are wrong, we can take a relatively small loss by doing 2 things:  1)  legging into a trade (in 2-3 trades – size management)   2)  knowing where you are wrong (your exit plan).
I do not have a position in crude oil, but from my vantage point it should have trouble surmounting the $52-$54 in the near-term (I always give some room for the volatility gods). If $54 is eclipsed, then this thesis likely isn't "working".  Remember, this is a trade idea not a long-term call.
As well, because this rising wedge is formed out of the "second" wave higher, I'd be inclined to use fibonacci retracements lower (within this second wave) as a gauge for setting targets.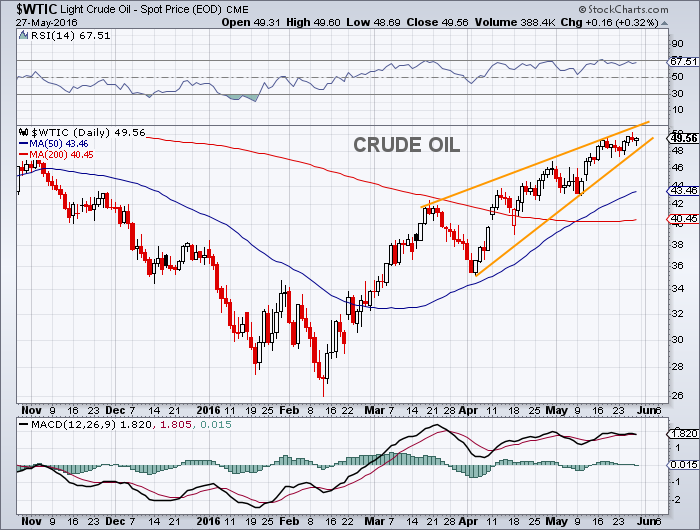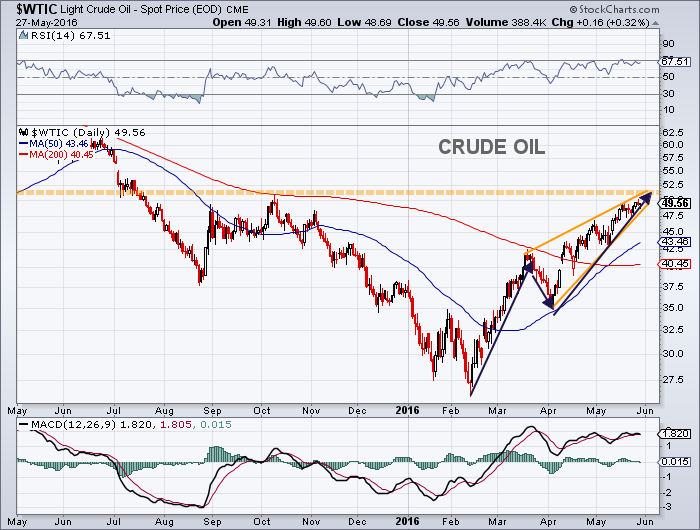 Twitter: @andrewnyquist
The author does not have a current position in mentioned securities at the time of publication. Any opinions expressed herein are solely those of the author, and do not in any way represent the views or opinions of any other person or entity.