The S&P 500 finished higher by 0.16% and continues to have a strongly bullish intermediate posture according to the Market Forecast indicator.
While all major U.S. equity indices have strongly bullish intermediate postures, only the Dow Jones Industrial Average retains its "3 Green Arrows" status since the MACD histogram has shown negative momentum in the other indices.
The Dow Jones Industrial Average achieved another multi-month high today while the other indices ended the holiday-shortened week in more of a neutral position.
Despite lagging other indices on a relative basis recently, the Russell 2000 closed with an official "Golden Cross" using a 10-week moving average and a 40 week moving average for the second straight week.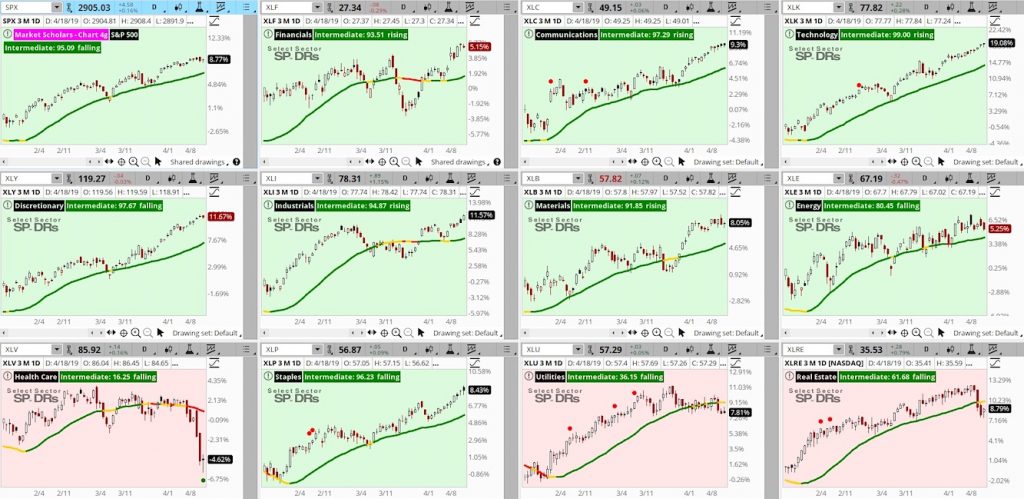 Get market insights, stock trading ideas, and educational instruction over at the Market Scholars website.
The U.S. Dollar had a very strong day and continued its bullish trend with a new multi-month high.
Bonds rose and interest rates fell today after a big move higher recently; the 10 year Treasury Yield settled the week at 2.56%.
Weekend Market Outlook Video – April 19:
Below are some additional bullet points discussed in this weekend's video:
Junk bonds have been among the brightest spots in the bond world due to strength in crude oil pricing
After falling for the last two sessions, stocks in Israel could be setting up for a bounce higher after finishing today's session with a long lower shadow candlestick just above a key support area
Health Care stocks dominated the sector conversation this week; after a nasty sell-off, they now have an oversold cluster signal which should give a little breather to the intense bearishness seen this week
The Industrial and Technology sectors continue to trend higher at a brisk pace and have bullish intermediate postures with new multi-month highs
Our trade application example featured selling an iron condor on U.S. Government Long Bonds (TLT) with breakeven levels at the bookends of the high and low price range over the past 3 months
Twitter: @BrandonVanZee and @Market_Scholars
Any opinions expressed herein are solely those of the author, and do not in any way represent the views or opinions of any other person or entity.