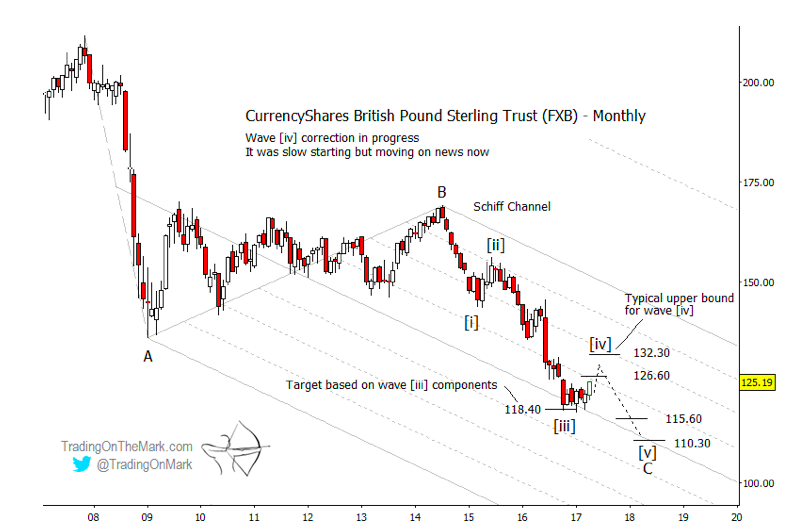 This week's spike in the British Pound (CURRENCY:GBP) caught some traders off guard, but if you have been following our posts at See It Market you were prepared for it.
The British Pound continues to follow the Elliott wave path we sketched last summer and that we updated most recently in our January post.
Charting the Pound via the CurrencyShares British Pound Sterling Trust (NYSEARCA:FXB), we note that the spike took price near the first resistance level we had been watching. Even higher prices are possible in the near term, although the better trade might be a short set-up later this year.
British Pound Currency ETF (FXB) – Elliott Wave Road Map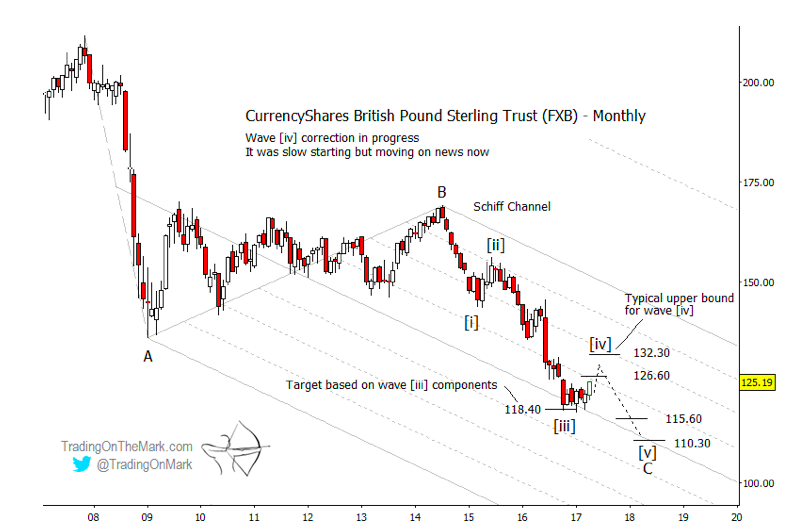 We believe FXB is moving through an upward/sideways correction that is sub-wave [iv] of a five-wave sequence down from the 2014 high. The most prominent areas to watch for corrective wave [iv] to turn into downward wave [v] are near 126.60 and possibly 132.30, although some intermediate resistance levels between those two might also come into play.
Based on the Schiff channel shown on the monthly chart and additional geometry on a weekly time frame, we believe the most probable timing for a turn is around June or July. An eventual downward wave [v] will probably reach into the area defined by the Gann square-of-nine supports at 115.60 and 110.30.
Be sure to check our Twitter account for an updated weekly FXB chart, which should be available by the time you read this article. We should be able to fine-tune the resistance levels on a weekly time frame.
Also check out the great value we're offering this April for new subscribers to our daily and intraday analysis services. With savings ranging from 17% to 27%, this is an opportunity you won't see again this year. See our subscription page for details.
Thanks for reading.
READ:  U.S. Dollar Poised To Rise Further In 2017
Twitter:  @TradingOnMark
No position in any of the mentioned securities at the time of publication. Any opinions expressed herein are solely those of the author, and do not in any way represent the views or opinions of any other person or entity.