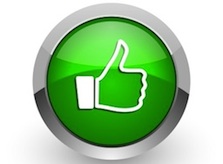 By Andrew Nyquist        April was a great month for See It Market. Sure, the content was good but our readers were even better. Our viewership hit new records each week, and for that I am very proud. And I personally thank you.
During the month of April, we added 30 year options pro Randall Liss for an educational weekly column, and finished up a fantastic interview with Leigh Drogen, founder and CEO of Estimize (hat tip to Alex Salomon) that will publish tomorrow evening. Stay tuned.
Now  let's get to the good stuff. It's time to reflect on the month that was with the latest installment of "The Best of See It Market" for April.
The blogs below include the most-viewed and shared blogs for the month, in no particular order. Hope you are enjoying your weekend!
THE BEST OF SEE IT MARKET – April
Investing
Margin Debt: The Next All-Time High? by Andrew Kassen
Understanding and Respecting Time and Price Analysis by Andrew Nyquist
Top 10 Finance Books All Investors Should Read by Max Moore
How to Use the COT Report for Trading by Alex Bernal
Short-Selling: Taking the Other Side of the Trade by Sheldon McIntyre
Why Trading Time Frames Matter by Jeff Wilson
Simplify Your Trading, Simplify Your Life by Chris Zielinski
Five Disciplines for Successful Trading by Andrew Nyquist
The Emerging Bubble in 'Certainty' by Ross Heart
Topping Patterns: Portraits of Stocks at Risk by Maria Rinehart
Behavioral Economics and the Equity Risk Premium Puzzle by Allan Millar
Chartology
Russell 2000: Breaking Out Back to the Highs? By Andrew Kassen
GOOG Stock Falls Again, Nearing Important Price Support by Andrew Nyquist
Market Commentary
Brixit: What a British Exit from the EU Looks Like by Alex Salomon
Personal Finance
Net Worth Comparison Tools: Stay Ahead of the Financial Curve by Kelly Hodges
Rising Health Care Costs Stretching Middle Class by Jeff Voudrie
Thank you for reading, commenting, and supporting See It Market. If you are interested in contributing, please contact Andy Nyquist at andrew@seeitmarket.com – Enjoy the rest of your weekend!
Look for another installment of The Best of See It Market next month.
Twitter:  @andrewnyquist and @seeitmarket