Late last week, I penned a piece about the potential for upside for equities into mid-January. The S&P 500 (INDEXSP:.INX) is holding up fairly well (and may have more upside near-term), but the window for much higher prices may be closing.
That said, for any meaningful selloff to take place, we'll need to see actual weakness.
S&P Futures Outlook: (2-3 Days) Bullish
Once again, I am seeing insufficient evidence of any real weakness with stock indices range-bound since this time in mid-December. The Nasdaq 100 (NDX) pushed higher again on Tuesday, lifting it further into all-time high territory. This shouldn't be surprising as I've pointed out reasons for tech to lead the rally into Jan 2017.
On S&P 500 futures, 2274-7 marks recent highs and is the near-term level that bulls will need to overcome. After, we could see brief rallies, but it's still doubtful the S&P 500 gets over 2295-2300 without pulling back first. Any move under 2254 leads to a test of 2228 (but that still seems premature).
Broader Technical Picture
Equities continue to churn sideways. The S&P 500 and Dow Jones Industrial Average (INDEXDJX:.DJI) have moved literally nowhere since mid-December when both peaked out. And despite this consolidation being a possible negative given that US indices are not following the NASDAQ up to new highs, there remains precious little actual selling to warrant any kind of pullback.
The key levels to watch are 19718 on the Dow Jones Industrials and 2228 on the S&P 500. Any move below those levels would be concerning.
But for now, the push higher in Airlines to help Transports, while Small-caps bottoming at recent support near the last months lows, along with the resilience of Financials are all considered positives. While the upcoming anniversary of last year's major lows near January 20th could indeed prove important, the near-term just doesn't yet justify that trends are turning South.
One of the sectors in particular that's stalled out but remains bullish is the Financials Sector (NYSEARCA:XLF). This rose steadily when bonds were selling off (yields rising) yet suffered no material drawdown of late as yields fell. The XLF has been grinding sideways and then showed very good outperformance Tuesday from COF, BAC, and many of the Regionals, as KRE rose nearly 1% on the day. As long as 23.10 holds, this sector looks good.
Chart Spotlight: NASDAQ 100 ETF  (NASDAQ:QQQ)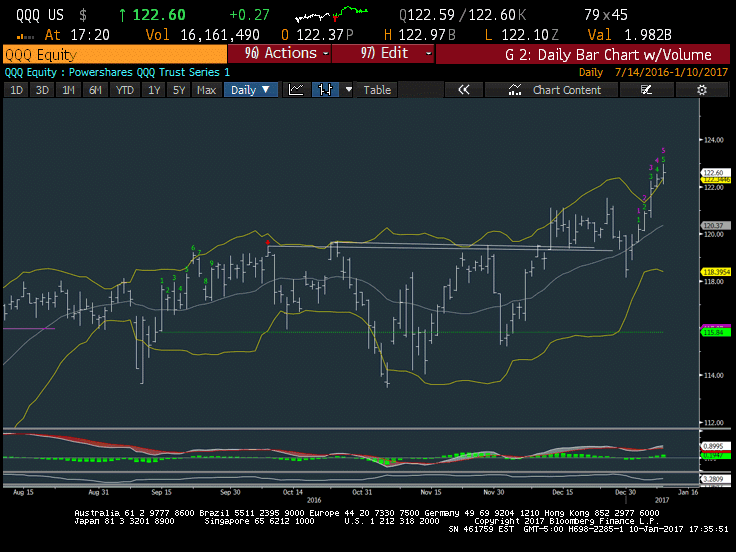 Thanks for reading.
Note that you can catch more trading ideas and market insights over at Newton Advisor.  Thanks for reading.
Twitter:  @MarkNewtonCMT
Any opinions expressed herein are solely those of the author, and do not in any way represent the views or opinions of any other person or entity.