S&P 500 Index Trading Outlook – (3-5 Days): Minor Bullish this week, with tight stops at 2943
Movement over 2960 on the S&P 500 is a mild positive (the index exceeded the minor 1 month downtrend line). But now follow through rallies are needed to avoid late month volatility.
Consolidation on Monday is seen as a positive, and buyable. Any move under 2943 would necessitate hedging.
S&P 500 Index Chart Analysis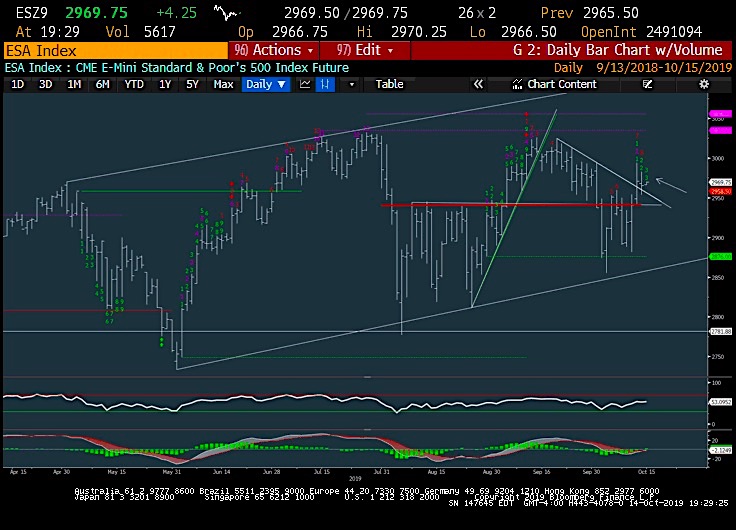 Yesterday provided some minor consolidation to the 100+ point move since last Wednesday which looks to potentially have some minor follow-through this expiration week.
Key resistance lies near 3027 near former highs, and pullbacks should not get back below 2943 this week without turning trends back to negative. We'll see the extent to which last weeks move can now follow-through. Technically trends have improved slightly, yet breadth concerns on a micro-basis are still something to keep an eye on over this next week.
To have real confidence, it will be necessary to bring about a strong wide-spread participation rally, which im skeptical can happen.
If you have an interest in seeing timely intra-day market updates on my private twitter feed, please follow @NewtonAdvisors. Also, feel free to send me an email at info@newtonadvisor.com regarding how my Technical work can add alpha to your portfolio management process.
Twitter: @MarkNewtonCMT
Author has positions in mentioned securities at the time of publication. Any opinions expressed herein are solely those of the author, and do not in any way represent the views or opinions of any other person or entity.