Stock Market Futures Considerations For March 20, 2017
The S&P 500 (INDEXSP:.INX) is bouncing off support and looks to consolidate at higher prices. As for commodities, crude oil is rangebound while the buy rating on Gold last week from GS holds the precious metals higher but into consolidation.
Check out today's economic calendar with a full rundown of releases.  And note that the charts below are from our premium service and shared exclusively with See It Market readers.
S&P 500 Futures (ES)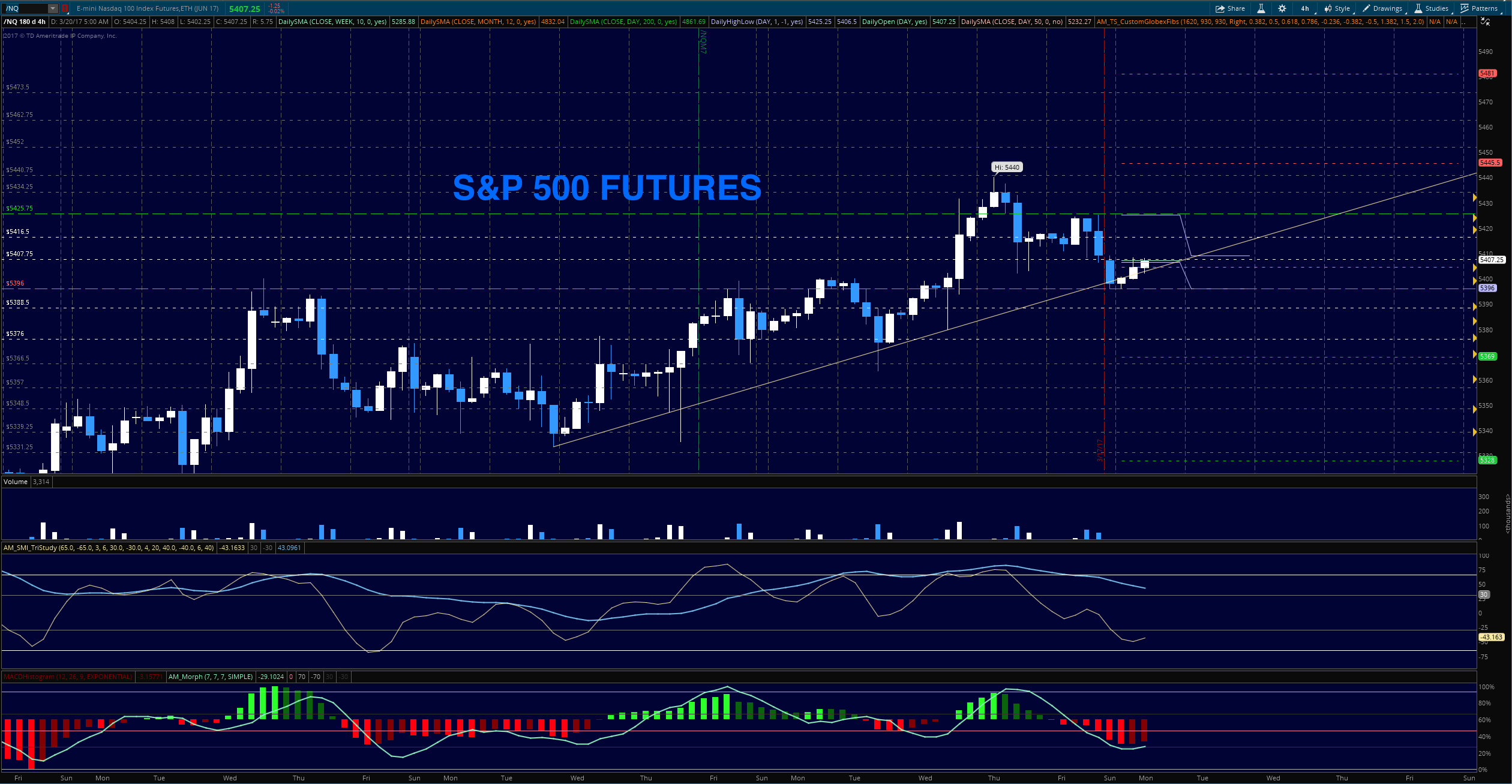 Higher lows I suspect are here as we test and bounce off 2368.75.  The breach of 2374.75 will likely take us to 2381.75. Sideways consolidation action for the next few trading days should continue with the range between 2259 and 2292. Today, a hold of 2275.50 opens the upside tests into resistance while a failed retest of 2368 opens the test of 2360 as likely.
Buying pressure will likely strengthen above a positive retest of 2381.5 (use caution here as 2385 looms just above)
Selling pressure will likely strengthen with a failed retest of 2368.5
Resistance sits near 2385.75 to 2389.5, with 2392.25 and 2397.75 above that
Support holds between 2368.5 and 2363.5, with 2361.5 and 2358.5 below that
NASDAQ Futures (NQ)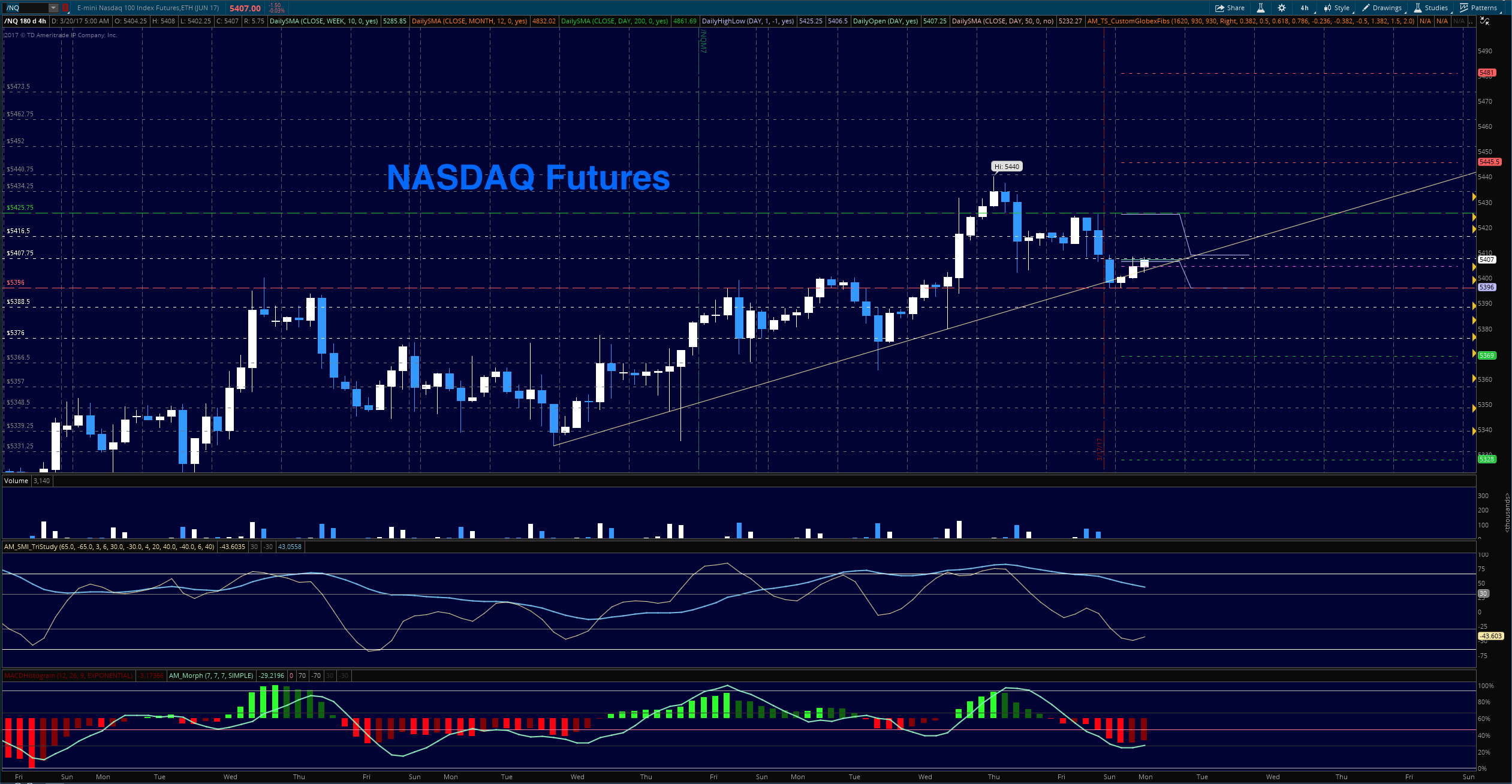 The NQ_F still holds bullish formations as traders brought higher lows in premarket action.  We got the pullback we expected off the higher and tested a breakout region near 5296 early in Asia trading hours.  The likely test I mentioned on Friday came and we lifted off that 5400 level but now sit near near term resistance.  The pressure to hold the level sits with the buyers as sellers have a minor advantage in the formation.  I'll be looking for higher lows or further consolidation in the region between 5378 and 5408. A breach above 5417 will cause buyers to become more aggressive.
Buying pressure will likely strengthen with a positive retest of 5416.75 (use caution and wait for a retest)
Selling pressure will likely strengthen with a failed retest of 5388
Resistance sits near 5425.5 to 5434.5, with 5440.75 and 5445.5 above that
Support holds between 5396.25 and 5390.5, with 5388 and 5376.75 below that
Crude Oil –WTI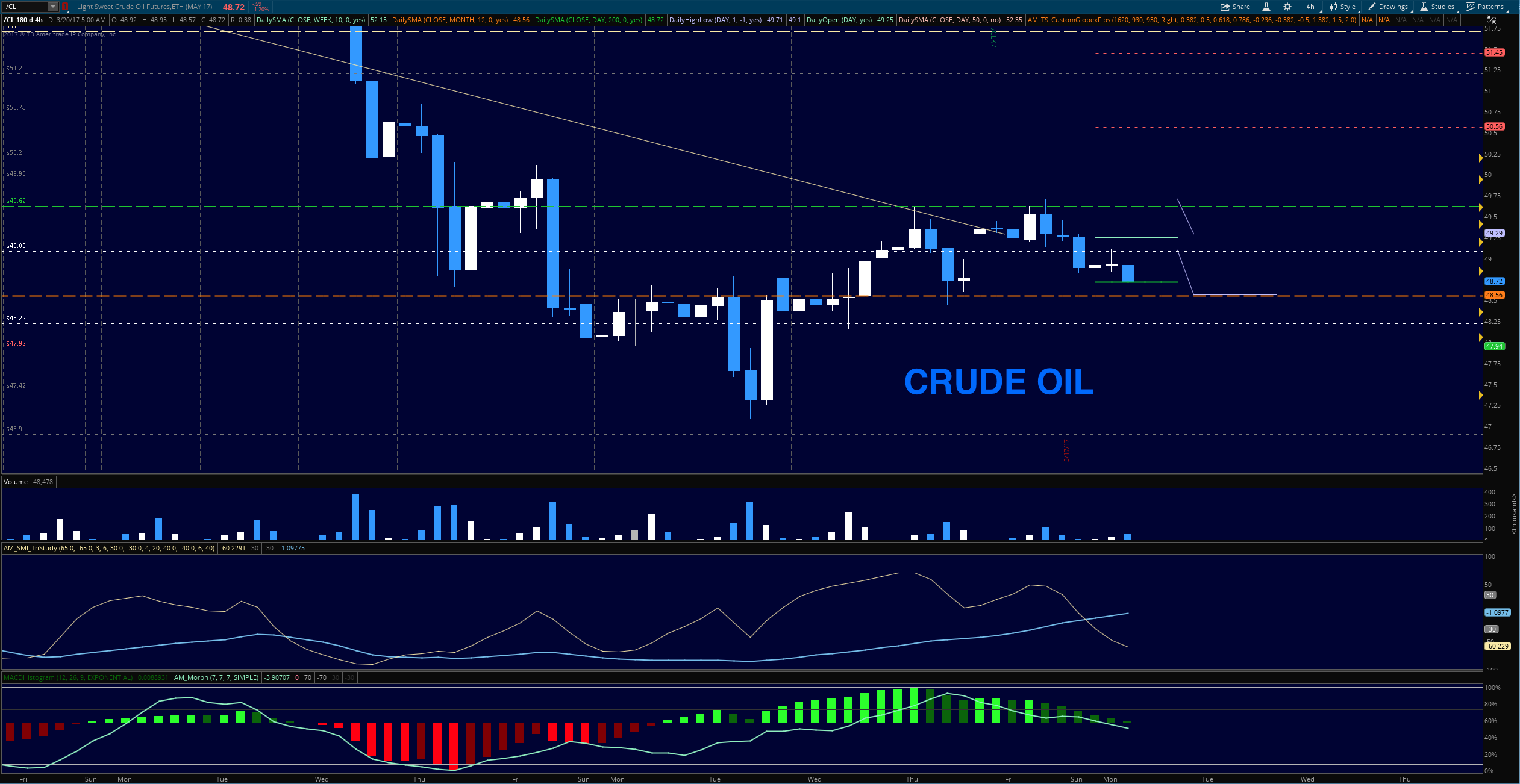 The contango roll presented a gap fill on Friday that filled overnight.  We bounced off a key support level near 48.55 ( the 12 monthly SMA on the composite chart).  Congested regions lie all the way to 49.3 this morning and momentum suggested that bounces should fail as we sit in a range bound pattern.  Deeper pullbacks (though unexpected) should be bounce zones and tests near 49.68 will present as resistance, particularly at the first test of the area.
Buying pressure will likely strengthen with a positive retest of 49.65 (be careful here)
Selling pressure will strengthen with a failed retest of 47.9
Resistance sits near 49.74 to 50.08, with 50.62 and 51.14 above that.
Support holds between 48.55 and 48.22, with 47.62 and 47.42 below that.
If you're interested in watching these trades go live, join us in the live trading room from 9am to 11:30am each trading day.
Visit TheTradingBook for more information.
If you're interested in the live trading room, it is now primarily stock market futures content, though we do track heavily traded stocks and their likely daily trajectories as well – we begin at 9am with a morning report and likely chart movements along with trade setups for the day.
As long as the trader keeps himself aware of support and resistance levels, risk can be very adequately managed to play in either direction as bottom picking remains a behavior pattern that is developing with value buyers and speculative traders.
Twitter:  @AnneMarieTrades
The author trades stock market futures every day and may have a position in mentioned securities at the time of publication. Any opinions expressed herein are solely those of the author, and do not in any way represent the views or opinions of any other person or entity.