The high price in the S&P 500 Index, 2127.83, was reached on May 15, 2015. Over the following 9 months, the S&P 500 declined 14.04% with low price being reached on February 11, 2016. Since that day, the stock market index has rallied 11.56% through the close of trading on March 17, 2016. But how do we weigh the S&P 500 performance during this rally?
Well, as a professional market participant, I have a keen interest in the composition of index performance in both up and down price performance regimes. One question in particular that I try to answer is: What is the quality of the move?
Specific to the recent stock market rally, is it mere "short-covering" or has something fundamentally changed to warrant an upward-repricing of equities?
The following table decomposes the index performance for the time periods mentioned above: market correction vs market rally.
S&P 500 Performance Composition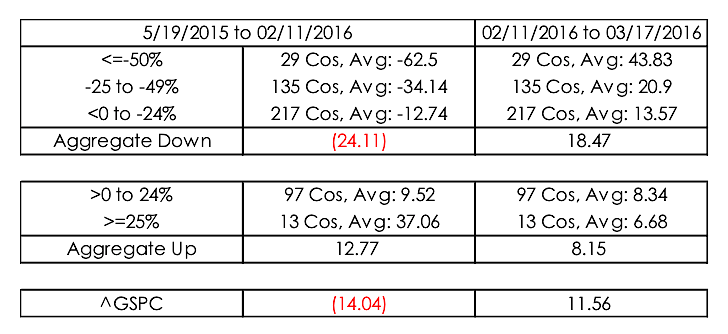 78% of the constituents declined during the index correction, averaging -24.11%.
Of the 381 constituents that declined, 29 suffered declines <= -50%.
The index-rally from the low has been led by the constituents that declined the most during the sell-off; one sign of short-covering.
13 stocks that rallied >=25% during the index sell-off, and have continued to rally, include the following:
CSC – Computer Science Corp (+75.98%)
HRL – Hormel Foods (+59.80%)
CVC – Cablevision Systems (+58.68%)
TSN – Tyson Foods (+58.02%)
TE – Teco Energy (+49.70%)
CPB – Campbell Soup (+40.38%)
ARG – Airgas (+39.42%)
GOOGL – Alphabet Inc. (+38.09%)
RAI – Reynolds American (+37.85%)
FB – Facebook (+37.69%)
GOOG – Alphabet Inc. (+37.30%)
O – Realty Income Corp. (+35.29%)
GAS – AGI Resources (+32.49%)
What macroeconomic inferences can be drawn from the fact that, of the 13 stocks that outperformed, one makes soup, two make canned/frozen meat, one makes cigarettes, one provides television services, and three provide online media services? Draw your own conclusions.
Thank you for reading.
Twitter:  @Techs_Global
Any opinions expressed herein are solely those of the author, and do not in any way represent the views or opinions of any other person or entity.