I try and remain objective as possible.
I am in the bull camp, have been for the past couple of weeks, and still believe new ATHs are coming in the SPY sooner rather than later. But that doesn't mean I can't change my opinion or that I'm blind to potentially bearish signals.
Here's an outcome that the bears should be hungry for.
First let's take a look at the S&P 500 ETF – $SPY:
Note that the post was written and charts created on June 8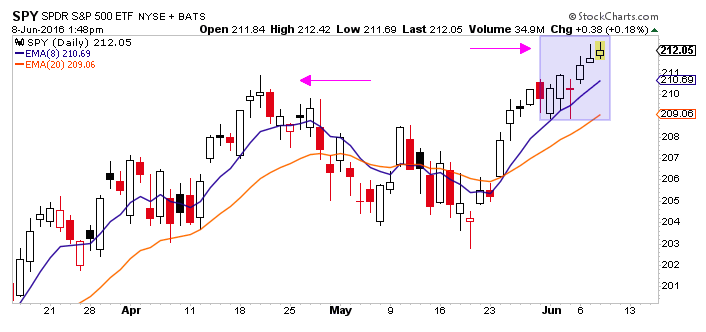 An uptrend, above the April highs, making forward progress.
The Russell 2000 ETF ($IWM) also in an uptrend (stronger), well above April highs and making upside progress.
And now the Nasdaq 100 ETF ($QQQ) which is below April highs, in an uptrend, but stuck in a range and reluctant to follow it's major index siblings higher in recent days.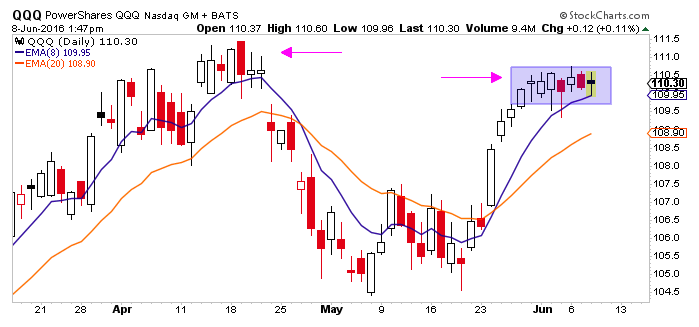 What the bears want to see here is failure to breakout of this range, a roll over, and a lower high versus the April rally.
With objectivity in mind, taking the other side, if the QQQs can emerge out of this range with an explosion higher, then look out above.
This of course isn't the "end all, be all" signal, but it does represent an important group of stocks and therefore becomes an important range to have on your watch-list moving forward.
Thanks for reading.
Read more from Evan on The Trade Risk.
Twitter:  @EvanMedeiros
Any opinions expressed herein are solely those of the author, and do not in any way represent the views or opinions of any other person or entity.