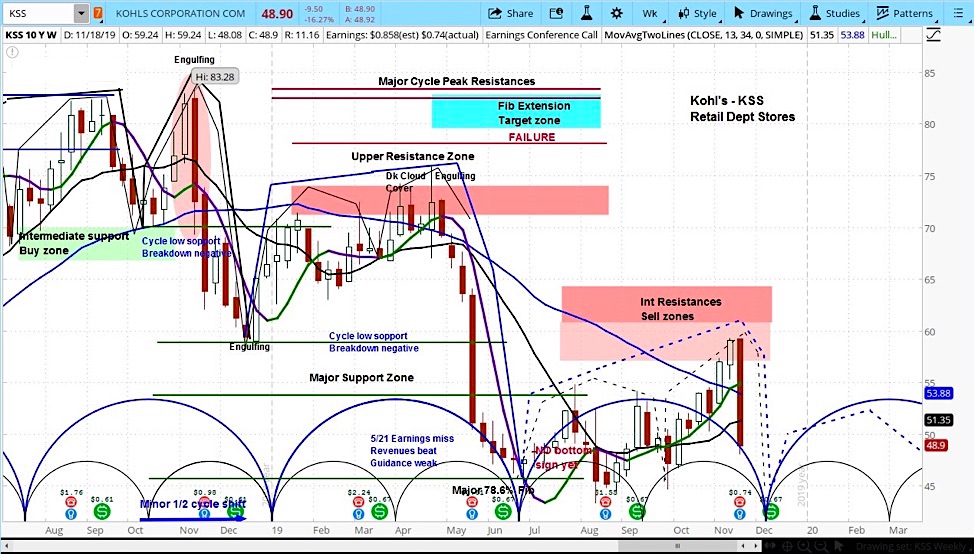 Kohl's Stock Weekly Chart – NYSE: KSS
Kohl's (KSS) sank 19% on Tuesday, after the company posted earnings that missed Wall Street expectations.
We believe Kohl's stock price has more downside risk in the coming months, based on its market cycles.
The company reported earnings per share of $0.74 and total revenue of $4.36 billion, compared to analyst estimates of $0.86 and $4.39 billion. Looking forward, management cut its guidance to $4.75-4.95, below the $5.19 consensus.
CEO Michelle Gass put a positive spin on the quarter, "We are pleased to report that our business recaptured momentum during the third quarter, returning to growth with a comparable sales increase of 0.4%." But that didn't stop investors from bidding the stock lower.
Our approach to stock analysis uses market cycles to project price action.
KSS failed perfectly from resistance and is now in the declining phase of its current cycle, with a few weeks remaining. Our target is $45. We expect next year to be a bit rough.
For the "Best and Worst Stocks of the Week" check out the askSlim Market Week show every Friday on our YouTube channel.
Twitter: @askslim
Any opinions expressed herein are solely those of the author, and do not in any way represent the views or opinions of any other person or entity.