The corrective moves we've been tracking in some international stock ETFs appear to be nearing their end.
This post updates our forecast for the iShares MSCI Italy Capped ETF (NYSEARCA: EWI) which is following the plan we described in January and may soon provide an opportunity to catch a strong reversal.
Six months ago we noted that support for the Italian ETF would bring a temporary halt to the decline that had persisted through most of 2018.
The Elliott wave count down from the January 2018 high on the Italian ETF appears to be a complete set of five moves.
Treating the decline as wave (i) of an impulse emerging from a multi-year Elliott wave triangle, we predicted a corrective bounce as wave (ii) and showed the most important resistance levels to watch.
The chart below shows a refinement of those resistance levels which are now quite nearby.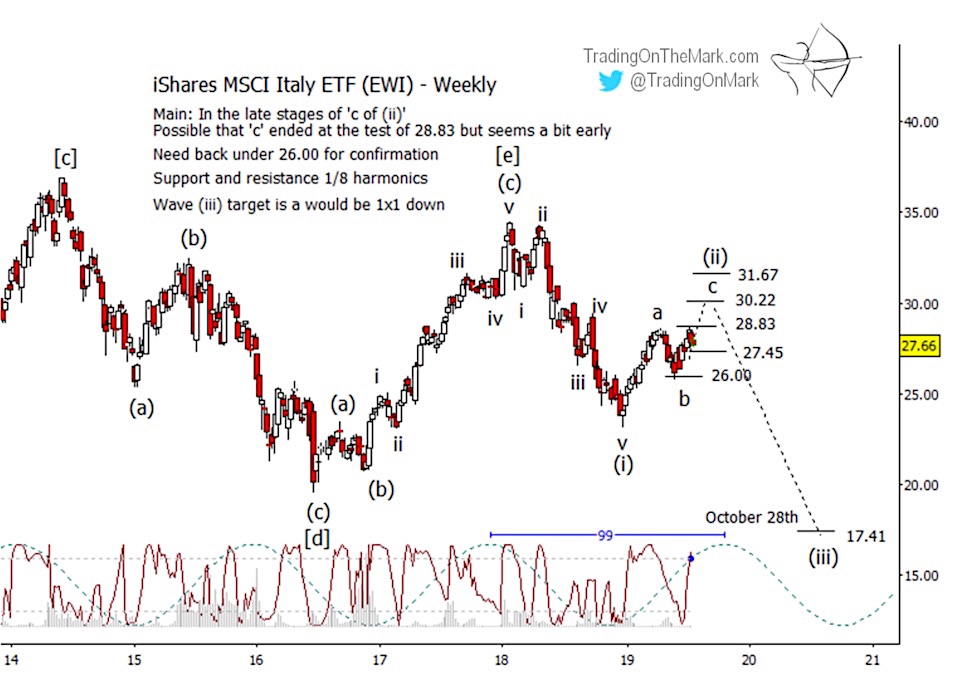 For a reversal we'd like to see the Lomb periodogram move a bit farther into the upper reversal zone. Likewise the empirical 99-week cycle may need several more weeks to mature. Either of those developments would allow a bit more time for price to test the harmonic retracement levels we have drawn at 30.22 and possibly 31.67.
Note that price recently tested the first such resistance at 28.83, which represents the earliest point to watch for a reversal.
A very preliminary target for the next big decline sits near 17.41, which would represent approximately a 42% decline as measured from the middle resistance level.
If your trading style is to jump onto the breakout, a weekly close beneath 26.00 would offer fairly good confirmation that wave (iii) has begun.
You can get a jump on other traders with this kind of analysis by subscribing to our free newsletter and following us on Twitter. In addition our premium services cover the S&P 500, crude oil, gold, the Euro, the Dollar and treasuries.
Twitter: @TradingOnMark
The authors may have a position in the mentioned securities at the time of publication. Any opinions expressed herein are solely those of the author, and do not in any way represent the views or opinions of any other person or entity.