North Korea and the Stock Market
Tension between the United States and North Korea should always be taken seriously and is relevant to our investments. However, it is prudent to evaluate present day circumstances in the context of geopolitical and market history.
The chart below looks at the S&P 500 Index (INDEXSP:.INX) and highlights periods of geopolitical concern related to the United States and North Korea.
While stocks experienced normal and sometimes gut-wrenching volatility when geopolitical concerns were elevated, bullish trends remained in place helping propel the S&P 500 to gains exceeding 200%.
1994: A Bad Year For U.S./North Korea Relations
In 1994, tensions were running high and many feared military conflict between the United States and North Korea. In a Frontline article, Ashton Carter, Assistant Secretary For International Security Policy (1993-1996), described the uneasy circumstances:
"In June of 1994, North Korea was preparing to remove some fuel rods from a research reactor which they'd been operating at Yongbyon. [The] fuel rods contained five or six bombs' worth of weapons-grade plutonium. They were going to take those fuel rods and extract the plutonium from them."
"We felt that that would bring a potentially hostile nation to the United States across the nuclear finish line and that that wasn't acceptable to us. We were not, by any means, confident that we could talk them out of taking that step, and therefore we looked into the possibility of compelling them by force to set back their nuclear program. We designed a strike of conventional precision munitions on Yongbyon, which we were very confident would destroy the reactor, entomb the plutonium and that we could mount such a strike and carry it out without causing the reactor to create a Chernobyl-like radiological plume downwind, which was an obviously important concern."
As shown in the chart above, the S&P 500 gained 232% between June 1994 and March 2000, telling us to keep an open mind about all outcomes, including much better than expected outcomes.
Moral Of The Story
All threats of military action should be taken seriously, including those in August 2017. However, all negative market events should also be taken in the context of the bigger picture, which can be summed up via the market's long-term trend. In the second version of the S&P 500/North Korea chart, we have added the S&P 500's 200-day moving average. Notice how the slope of the S&P 500's 200-day remained positive and helped filter out the day-to-day, and sometimes violent, stock market volatility.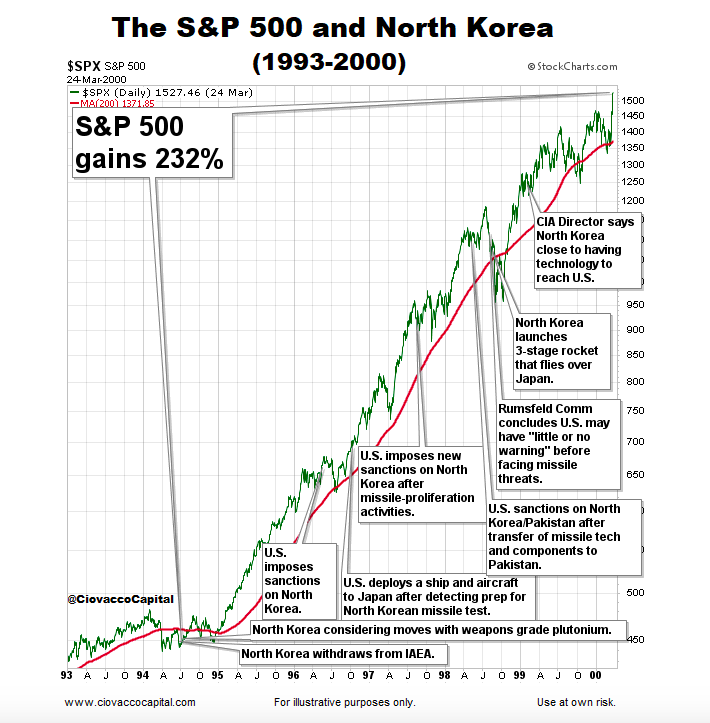 Strained Periods U.S./North Korea 1993-2000
U.S./North Korea relations experienced several periods of tension and anxiety between 1993 and spring 2000. The text below was taken from The Arms Control Association:
February 9, 1993: The IAEA demands special inspections of two sites that are believed to store nuclear waste. The request is based on strong evidence that North Korea has been cheating on its commitments under the NPT. North Korea refuses the IAEA's request.
March 12, 1993: Amid demands for special inspections, North Korea announces its intention to withdraw from the NPT in three months, citing Article X provisions that allow withdrawal for supreme national security considerations.
April 1, 1993: The IAEA declares that North Korea is not adhering to its safeguards agreement and that it cannot guarantee that North Korean nuclear material is not being diverted for nonpeaceful uses.
Late 1993: The Central Intelligence Agency (CIA) and the Defense Intelligence Agency estimate that North Korea had separated about 12 kilograms of plutonium. This amount is enough for at least one or two nuclear weapons.
January 1994: The director of the CIA estimates that North Korea may have produced one or two nuclear weapons.
March 21, 1994: Responding to North Korea's refusal to allow the inspection team to inspect a plutonium reprocessing plant at Yongbyon, the IAEA Board of Governors approves a resolution calling on North Korea to "immediately allow the IAEA to complete all requested inspection activities and to comply fully with its safeguards agreements."
June 13, 1994: North Korea announces its withdrawal from the IAEA. This is distinct from pulling out of the NPT—North Korea is still required to undergo IAEA inspections as part of its NPT obligations. The IAEA contends that North Korea's safeguards agreement remains in force. However, North Korea no longer participates in IAEA functions as a member state.
May 24, 1996: The United States imposes sanctions on North Korea and Iran for missile technology-related transfers. The sanctions prohibit any imports or exports to sanctioned firms and to those sectors of the North Korean economy that are considered missile-related. The pre-existing general ban on trade with both countries makes the sanctions largely symbolic.
October 16, 1996: After detecting North Korean preparations for a test of its medium-range Nodong missile, the United States deploys a reconnaissance ship and aircraft to Japan.
August 6, 1997: The United States imposes new sanctions on two additional North Korean entities for unspecified missile-proliferation activities.
April 17, 1998: The United States imposes sanctions on North Korea and Pakistan in response to Pyongyang's transfer of missile technology and components to Pakistan's Khan Research Laboratory.
July 15, 1998: The bipartisan Rumsfeld Commission concludes that the United States may have "little or no warning" before facing a long-range ballistic missile threat from "rogue states," such as North Korea and Iran.
August 31, 1998: North Korea launches a three-stage Taepo Dong-1 rocket with a range of 1,500-2,000 kilometers that flies over Japan. Pyongyang announces that the rocket successfully placed a small satellite into orbit, a claim contested by U.S. Space Command. Japan suspends signature of a cost-sharing agreement for the Agreed Framework's LWR project until November 1998. The U.S. intelligence community admits to being surprised by North Korea's advances in missile-staging technology and its use of a solid-rocket motor for the missile's third stage.
October 1, 1998: The third round of U.S.-North Korean missile talks begins in New York but makes little progress. 
February 2, 1999: CIA Director George Tenet testifies before the Senate Armed Services Committee that, with some technical improvements, North Korea would be able to use the Taepo Dong-1 to deliver small payloads to parts of Alaska and Hawaii. Tenet also says that Pyongyang's Taepo Dong-2, if it had a third stage like the Taepo Dong-1, would be able to deliver large payloads to the continental United States, albeit with poor accuracy.
March 29-31, 1999: U.S. and North Korean officials hold a fourth round of missile talks in Pyongyang. The United States again expresses concern over North Korea's missile development and proliferation activities and proposes a deal exchanging North Korean restraint for U.S. sanctions relief. U.S. officials describe the talks as "serious and intensive" but succeed only in reaching agreement to meet again at an unspecified date.
September 9, 1999: A U.S. National Intelligence Estimate reports that North Korea will "most likely" develop an ICBM capable of delivering a 200-kilogram warhead to the U.S. mainland by 2015.
2017: The Negative Side Is Easy To Understand
Common sense tells us any form of military conflict would not be well received by the markets, especially in the short-run. Even escalating tensions could lead to more downside. However, it is also logical to assess the odds of military conflict in 2017. The excepts below were taken from a BBC article on the recent rhetoric between the U.S. and North Korea:
A war on the Korean peninsula serves no-one's interests. The North Korean regime's main goal is survival – and a war with the US would seriously jeopardise it. As BBC defence correspondent Jonathan Marcus notes, any North Korean attack against the US or its allies in the current context could quickly spiral into a wider war – and we have to assume the Kim Jong-un regime is not suicidal.
Andrei Lankov of Kookmin University in Seoul told the UK's Guardian newspaper there was "very little probability of conflict", but North Koreans were equally "not interested in diplomacy" at this point.
What about a pre-emptive US strike? The US knows that a strike on North Korea would force the regime to retaliate against US allies South Korea and Japan. This would result in a massive loss of life, including the deaths of thousands of Americans – troops and civilians. Additionally, Washington does not want to risk any nuclear-tipped missiles being fired off towards the US mainland
Finally, China – Pyongyang's only ally – has helped to prop up the regime precisely because its collapse is deemed to be a strategically worse outcome. US and South Korean troops just across the Chinese border is a prospect that Beijing does not want to have to face – and that's what war would bring.
More On Approach To Current Situation
We will update present day trends and discuss our approach to the 2017 North Korea situation in this weekend's video. The video will be posted on Short Takes Friday evening/early Saturday morning.
Thanks for reading.
Twitter:  @CiovaccoCapital
The author or his clients may hold positions in mentioned securities at the time of publication.  Any opinions expressed herein are solely those of the author, and do not in any way represent the views or opinions of any other person or entity.