A stronger U.S. Dollar has weighed on the economies of many Emerging Markets, and in turn, levied some damage to EM equities as well. But most of the damage was doled out in the back half of 2014 when it became apparent that the U.S. Dollar rally was for real. So how are the Emerging Markets looking?
In the 1st quarter, the broad-based Emerging Markets ETF (EEM) managed to hold above water (and outperform the S&P 500), recording a gain of 2.1%. This due thanks in part to the last two days of the quarter, where the EM space posted strong relative gains.
But there's no need to celebrate just yet. The ETF is still well off its 2014 highs. A recent narrowing wedge pattern (lower highs/higher lows) will likely give way to EEM's next move. the emerging markets space is really a stock pickers market (and traders market, depending on time frame). On the one hand, you have higher profile (developed) country ETFs like iShares Brazil (EWZ) and Market Vectors Russia (RSX) that are mired in deep down trends (see charts below). But the beginning of 2015 has offered more of the same for Brazil (down 14.2 percent in Q1) and a relief rally for Russia (up 16.4 percent). Brazil continued to punish bottom callers, while Russia will need to prove it can breakout of the base its building.
Better macro charts exist for iShares China (FXI), the iShares Philippines (EPHE), and iShares India (INDA). All 3 ETFs are in uptrends and posted positive returns in Q1 2015. China ended the quarter near its highs. There are so many others to dig through, but the results are the same: A mixed bag. Pick carefully.
The state of the Emerging Markets ETF (EEM) and Select Country ETFS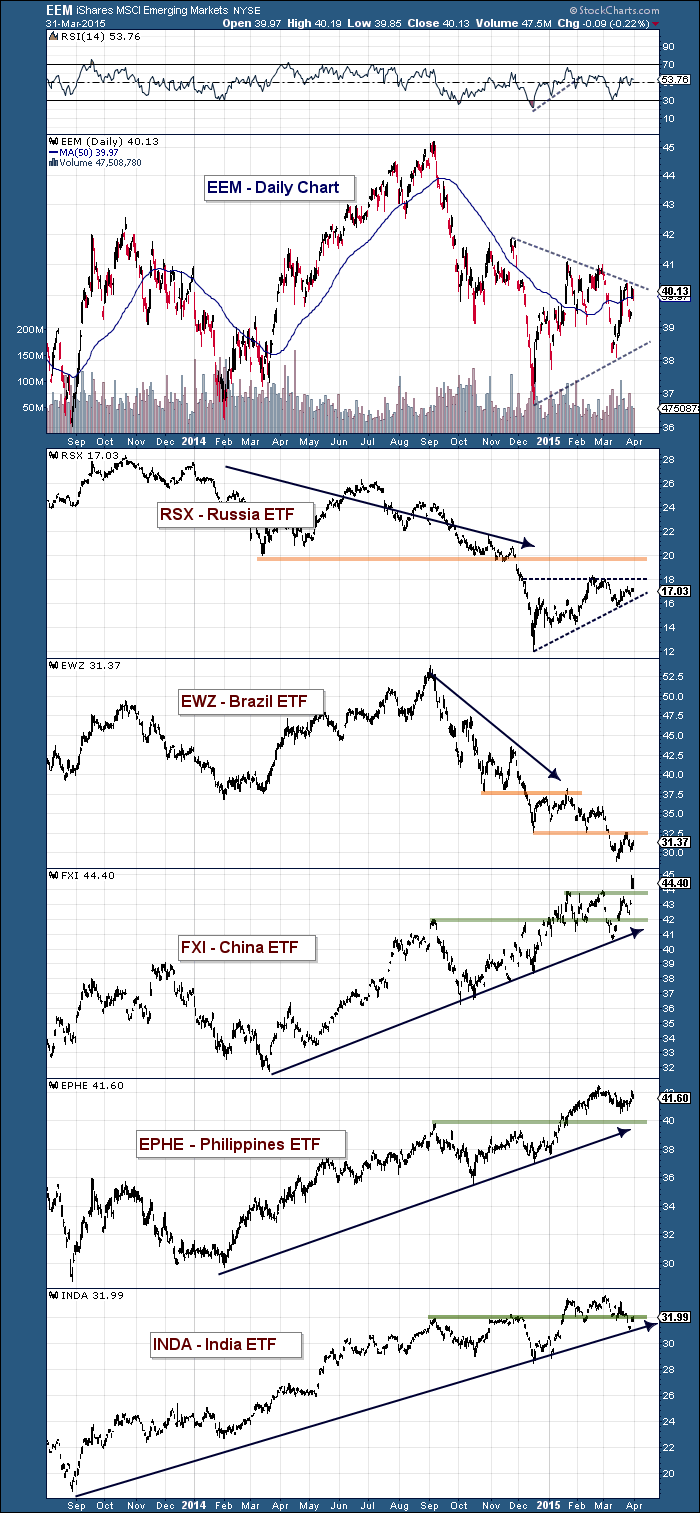 Follow Andy on Twitter:  @andrewnyquist
No position in mentioned securities at the time of publication. Any opinions expressed herein are solely those of the author, and do not in any way represent the views or opinions of any other person or entity.