The following are charts and data showing non-commercial futures trading positions as of November 14, 2017.
This data was released with the October 17 Commitment of Traders Report (CoT). Note that these charts also appeared on my blog.
The 4 charts below look at non-commercial futures trading positions for Crude Oil, Gold, and the US Dollar. For the week, the Gold ETF (NYSEARCA:GLD) was down -0.4%, the Crude Oil ETF (NYSEARCA:USO) was down -4.4%, and the US Dollar Index was .
CRUDE OIL
November 17 Commitment of Traders Spec positioning:  Currently net long 619.2k, up 36.1k vs last week.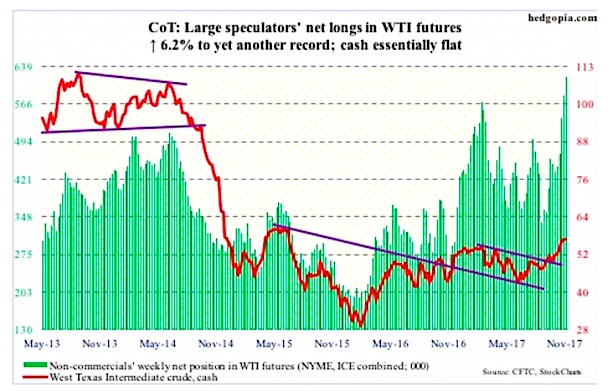 West Texas Intermediate crude ($56.71/barrel) finally gave in.  Sort of.  After giving out signs of fatigue last week, it sliced through the 10-day moving average Tuesday, but only to get reclaimed Friday.  The bulls defended the 20-day in the following sessions, which also approximates support at $54-55.
Near-term, the bulls may have a shot at the recent high of $57.92, but after five months of persistent rally they are also having to expend a lot of energy. Non-commercials are the most net long ever.
The weekly chart – way overbought – produced a dragonfly doji this week after what looked like a reversal candle last week.  There is plenty of unwinding left.
The EIA report for the week of November 10 – out Wednesday – did not favor the bulls much.
Crude production rose to yet another high – up 25,000 barrels/day to 9.65 million b/d.
Crude imports grew 521,000 b/d to 7.9 mb/d – a three-week high.
As did crude stocks, which increased 1.9 million barrels to 459 million barrels, and gasoline stocks, which rose 894,000 barrels to 210.4 million barrels.
Distillate stocks, however, dropped 799,000 barrels to 124.8 million barrels.  This was the lowest since February 2015.
Refinery utilization rose 1.4 percentage points to 91 percent – the highest since pre-hurricane high of 96.6 percent 11 weeks ago.
GOLD
November 17 Commitment of Traders Spec positioning:  Currently net long 195.1k, down 706 vs last week.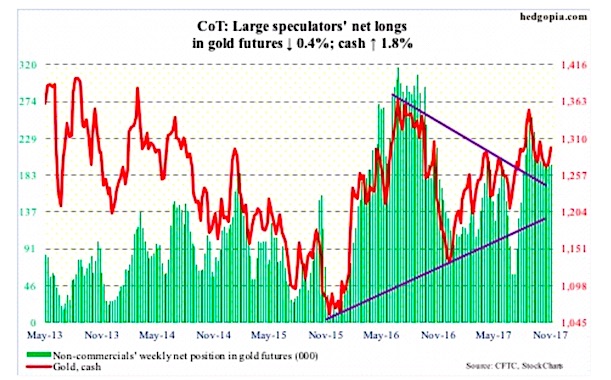 The cash ($1,296.50) hung in there, continuing to trade between the 50- and 200-day, until Friday when it rallied 1.4 percent past the former.  In the meantime, daily Bollinger bands are opening up from a very tight range.
There is room to rally on the weekly chart, and it will be a victory for the bulls if they can take out $1,300.
If only flows improved a bit.  In the week to Wednesday, IAU (iShares gold trust) took in $62 million, and GLD (SPDR gold ETF) $12 million.  In the prior two weeks, GLD lost $400 million (courtesy of ETF.com).
US DOLLAR INDEX
November 17 Commitment of Traders Spec positioning:  Currently net short 2.8k, up 3k vs last week.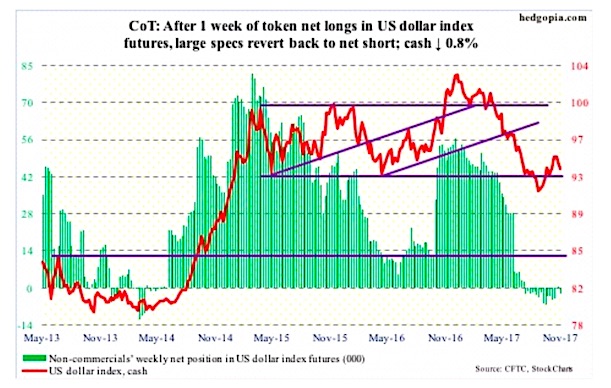 The cash (93.57) is at an interesting juncture.  Since getting rejected at 95.06-07 twice in the last three weeks, sellers showed up on the US dollar index.  Support at 94 has been lost.  Overbought weekly conditions can exert control if the 50-day (93.33), which was defended Wednesday, is lost.
Non-commercials continue to act hesitant.  After one week of net long, albeit just by a tad, they went back to net short.
Thanks for reading.
Twitter: @hedgopia
Author may hold a position in mentioned securities at the time of publication.  Any opinions expressed herein are solely those of the author, and do not in any way represent the views or opinions of any other person or entity.