The following is a recap of The COT Report (Commitment Of Traders) released by the CFTC (Commodity Futures Trading Commission) looking at futures positions of non-commercial holdings as of December 8, 2015. Note that the change in COT report data is week-over-week.
10-Year Treasury Note: Until Thursday, the two-year Treasury note yielded 0.95 percent, near recent highs of 0.96 percent.  Come Friday, it dropped seven basis points, to 0.88 percent. Yields were under pressure throughout the curve, with the 10-year dropping 14 basis points.
The two-year in particular was yielding 0.57 percent as early as the middle of October, and progressively rose, pricing in a hike in the fed funds rate next week.
The Fed has made it amply clear that it wants to move. What is yet to be determined is the future course of action.  It is too soon to say if this week's drop in equities and Treasury yields will influence the Fed's intentions going forward.
This much we do know.
The Fed will be tightening even as both the Eurozone and Japan are still easing. Ditto with China, with a weaker yuan to boot.  These three countries/regions make up 60 percent of the global economy.
The Fed has a tough hand to play.
COT Report Data:  Currently net short 24.5k, down 40.1k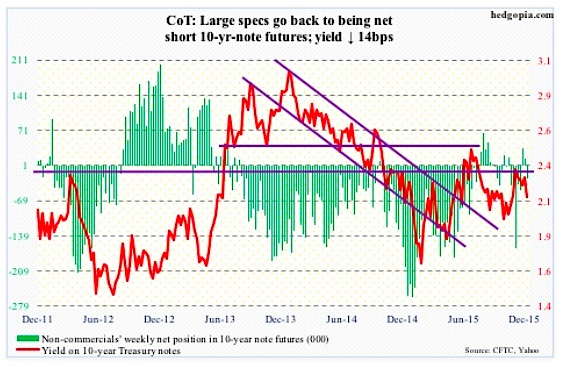 30-Year Treasury Bond: This week's major economic releases are as follows.
FOMC meeting begins on Tuesday, and ends the next day. Are markets genuinely ready for a hike? We will find out – particularly when it comes to medium- to long-term.
Tuesday has three other releases – CPI for November, December's preliminary reading of the NAHB housing market index, and Treasury International Capital for October.
Consumer prices rose 0.2 percent in October, after two straight months of decline. In the 12 months through October, the CPI advanced 0.2 percent as well. Core CPI rose 0.2 percent and 1.9 percent, respectively. Annual core prices are rising at a faster rate than core personal consumption expenditures, which in October rose 1.3 percent.
The housing market index slid three points to 62 in November. October's was the highest since 68 in October 2005.
In September, China held $1.26 trillion in Treasury securities, down $13 billion month-over-month. Holdings peaked at $1.32 trillion in November 2013.
Housing starts for November are published on Wednesday. Of late, the rather ebullient builder confidence is being reflected in starts. In October, they fell 11 percent month-over-month. Monthly data of course tend to be volatile. The 12-month rolling average has been north of a million units in 12 of last 13 months; that said, October was the first time in seven months it did not grow month-over-month – 1.084 million units versus 1.086 million in September.
Also on Wednesday, we get industrial production for November. Capacity utilization was 77.5 percent in October, down from 79 percent last November. Year-over-year, utilization has dropped for six straight months.
Besides Janet Yellen's, Fed chair, post-FOMC meeting press conference, Jeffery Lacker, president of the Richmond Fed, speaks on Friday.
COT Report Data:  Currently net short 20.9k, down 4.6k.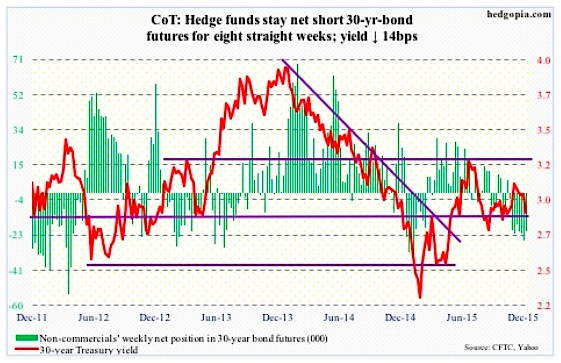 Crude Oil: The black gold is still reeling from OPEC's decision last week not to make any effort to curb overproduction. It has a quota of 30 million barrels per day, but of late the cartel has been pumping out over 31 mbpd. In November, crude oil production increased month-over-month by 230,100 barrels a day, to 31.695 mbpd.
No wonder both Chevron Corp. (CVX) and ConocoPhillips (COP) are slashing their budgets for next year – the former by 24 percent, to $26.6 billion, and the latter by 55 percent, to $7.7 billion.
In the end, the drop in crude oil stocks for the week ended December 4th was no help to the price. Stocks dropped by 3.6 million barrels, to 485.9 million barrels – a five-week low.
Oil production fell, too, down 38,000 barrels per day, to 9.16 mbpd, essentially wiping out the prior week's increase. Oil production peaked at 9.61 mbpd in the June 5th week.
The rest of the EIA data leaned bearish.
Gasoline stocks rose by 786,000 barrels, to 217.7 million barrels – a six-week high.
Distillate stocks rose by five million barrels, to 149.4 million barrels – a 10-week high.
Capacity utilization fell 1.4 percentage points, to 93.1 – the first week-over-week drop in eight weeks. Utilization peaked at 96.1 percent in the August 7th week.
And crude oil imports rose by 274,000 barrels a day, to eight mbpd – a 16-week high.
Last week, crude oil prices sat on August lows, and looked like they wanted to go lower on a weekly chart. This week, it collapsed, down nearly 12 percent.
Non-commercials continue to cut back, with net longs at a three-year low per recent COT report data.
COT Report Data:  Currently net long 207.3k, down 10.5k.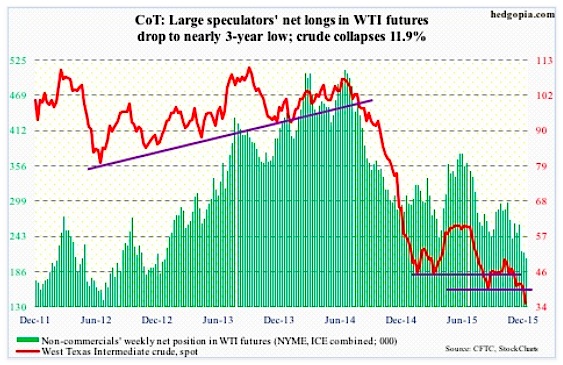 E-mini S&P 500: The index this week fell out of the pennant it had carved out for itself.
Flows continue not to cooperate. For the week ended Wednesday, $8.6 billion was withdrawn from U.S.-based equity funds (courtesy of Lipper). Since September 30th, inflows have only totaled $2.2 billion. In the meantime, in the past three weeks north of $37 billion has move into money-market funds.
Foreigners have been shunning U.S. stocks for a while now. In September, the 12-month running total stood at minus $95 billion.  The last time this metric was positive was October 2013.
Data such as these give reason for shorts to hang in there, and they have.
As of the end of November, NYSE short interest is down five percent from the high two months ago which was the second highest ever. Similarly, short interest on the Nasdaq is down six percent from the end-September high but two months ago had risen to the highest since mid-September 2008.
Stock market shorts were rewarded handsomely this week.
Non-commercials continue to cut back net shorts – now sub-100,000 contracts for three weeks; that said, this COT report data was before Friday's carnage.
Support at 1990 is a must-hold… or the decline could get ugly.
COT Report Data:  Currently net short 80.8k, down 15.5k.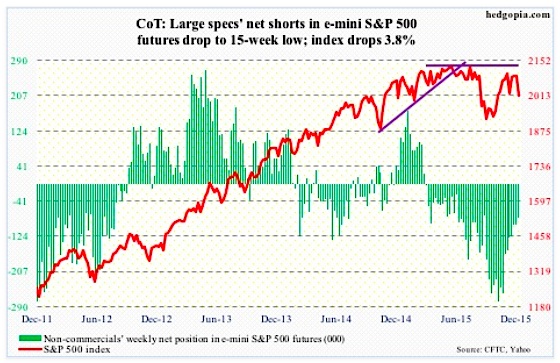 read more on the next page…