Last month, we wrote an article about the downturn in commodity prices. And more precisely, the decline in the Equal Weighted Thomson Reuters Commodity Index.
We questioned if it was sending a worrisome message to investors about the global economy.
Well, it looks to be true. Commodities have come under pressure in recent months and investors are taking notice. International equities are struggling, while U.S. equities stay afloat – but investors are (should be) watching.
Looking at a "monthly" chart of the Equal Weight Commodity Index (below), we can see that a wide, nearly 2 decade long, rising channel has been violated to the downside – see points 1 and 3.
The August closing price was below 17-year rising support at (point 3). This is concerning and definitely needs to be on the radar of global investors.
Note as well that this is occurring within a declining 7-year falling channel (point 2).  So the bulls are on the ropes.  Stay tuned!
Equal Weight Commodity Index "monthly" Chart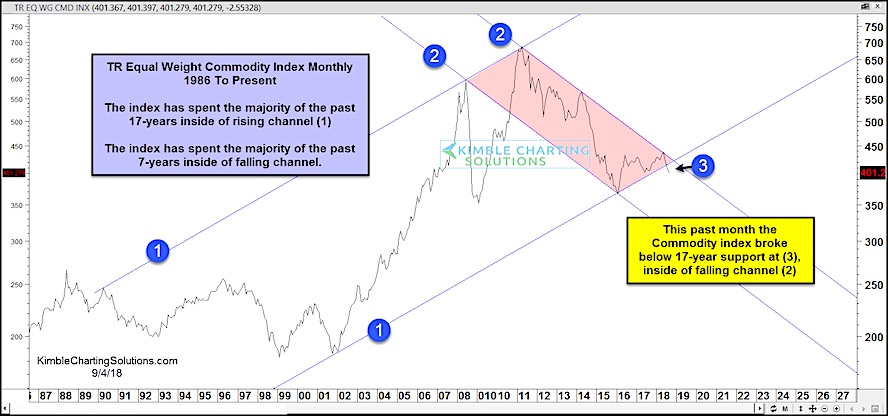 Note that KimbleCharting is offering a 30 day Free trial to See It Market readers. Just send me an email to services@kimblechartingsolutions.com for details to get set up.
Twitter:  @KimbleCharting
Any opinions expressed herein are solely those of the author, and do not in any way represent the views or opinions of any other person or entity.