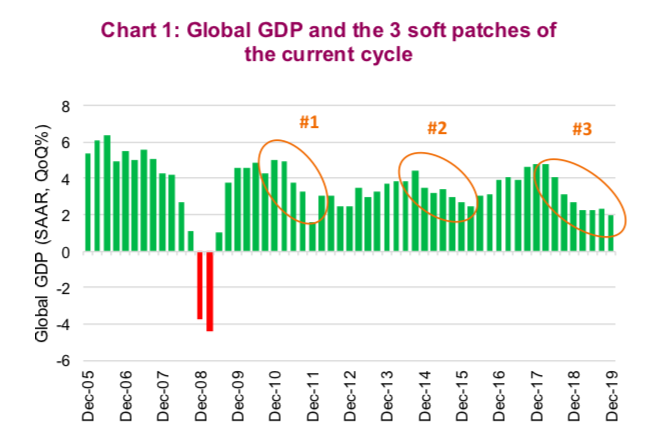 Last Man Standing
It just doesn't have the same ring as "last man standing" but times have changed. In this analogy, the Last Person is the U.S. consumer.
The U.S. consumer is a true behemoth representing roughly 20% of the global economy.
We have postulated for the past year that the U.S. consumer remains the line in the sand and will determine if the slowing global economic pace of growth is either the third soft patch of this 10-year old expansion (Chart 1 above) or the weakness becomes a global recession/bear market.
The global economy, while clearly still expanding, started slowing down or losing momentum in early 2018. Initially, this weakness was in the more fragile developing economies, but it spread to others including China.
This weakness then slowly spread to weigh on developed economies that are more sensitive to global trade such as Asia and Europe.
This pushed manufacturing into contraction mode and finally, the slowing pace crossed the oceans and landed in America. Slowing growth and trade uncertainty then weighed on the behavior of corporates, causing many to start tightening the purse strings.
This crimped corporate spending.
In response, central banks around the world broadly embarked on easing and becoming more accommodative. This easing has helped lift asset prices, including real estate and the markets. But now the big question is whether the U.S. consumer holds the line.
The good news is the U.S. consumer remains in very good shape. Their debt to disposable income is below 100%, after reaching over 140% before the last recession. From a balance sheet perspective, U.S. consumers are in their best shape in decades (Chart 6 below). But having the ability to spend does not automatically translate into spending. Consumer spending often boils down to two factors: employment and confidence. If you're employed and wages are rising people tend to spend more. If you're more confident, you often spend more.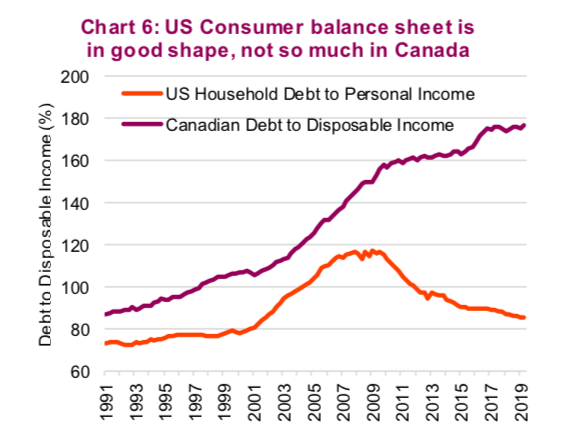 Consumer confidence impacts more than just consumer spending – it has a strong relationship with the equity markets as well (Chart 3).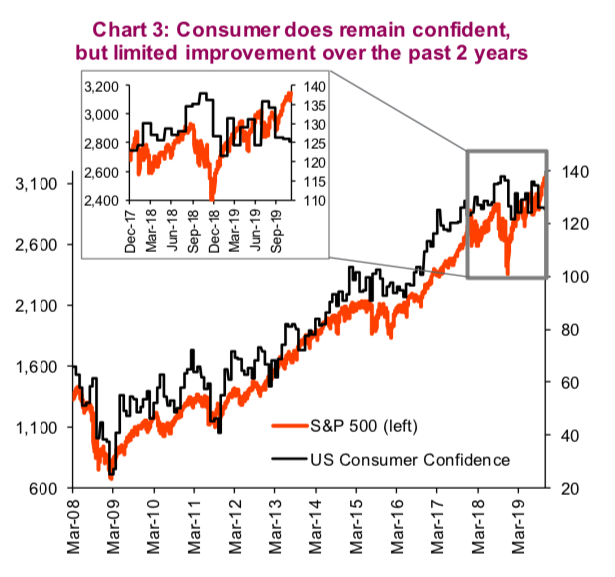 And while confidence has been largely rising over the past decade, it has been relatively flat for the past couple years, with a notable drop in the past few surveys. This could be the residual of trade tensions and slower economic growth bleeding into the 3.50 survey data. The good news is that while it does not appear to be rising, it 3.00 certainly isn't falling materially.
The next few data points will be crucial, but for now the U.S. consumer remains a little nervous.
continue reading on the next page…