With Veteran's Day and a bank holiday, the general action across the financial markets was quiet.
Therefore, no surprise that 11-11, a number that has historically made people shudder, today kept the stock market firm and inside the trading action of last week.
Every economic Modern Family (ETFs) member held last week's gains.
Despite the red close in all indices except the Dow Jones Industrial Average, the action (or non-action), looks positive.
Furthermore, the Russell 2000 ETF (IWM) did have a golden cross hence entered an unconfirmed bullish phase.
Unusual for me to look at the weekly charts on a Monday, I thought today the inside week setup makes the rest of the week relatively easy to discern.
Focusing on IWM, the price action range of last week was 157.81-160.46.
With today's close in the lower 1/3 of last week's range, IWM is a great barometer for the tone this week.
A move under 157.81 that cannot recover, means more selling is in store for the overall market.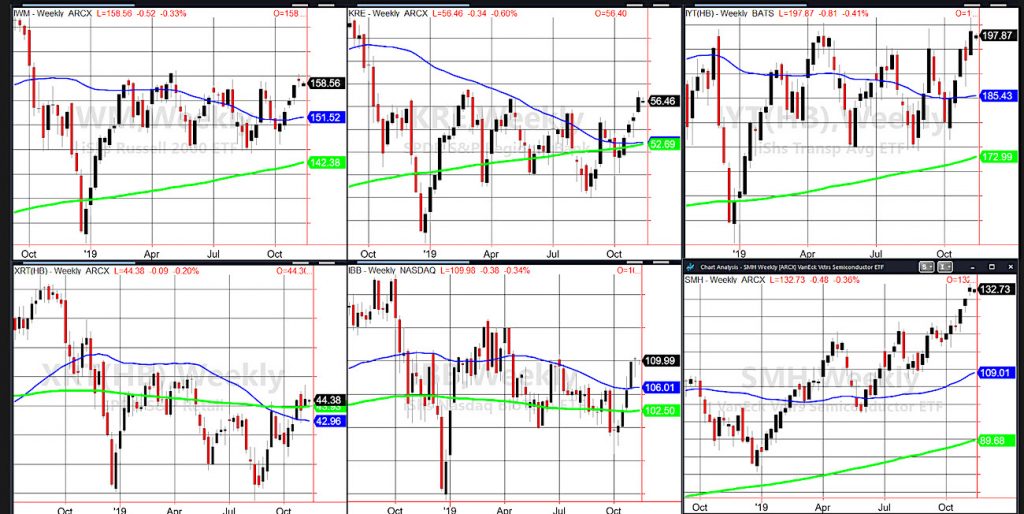 The same is true for brick and mortar Retail Sector ETF (XRT). 43.99-45.41 was its last week range.
Today's closing price was pretty much in the middle of that range.
I'd watch where the Retail Sector ETF (XRT) winds up as well.
As for the other sectors, they also traded within the range of last week, but more in the middle to upper levels of that range.
Overall, remember that the Russell 2000 IWM still needs to clear the April highs.
For Retail XRT, the April highs are still far away.
But for now, we can finetune our watch to which way last week's range ultimately breaks.
S&P 500 (SPY) 306.35 support. All-time high 309.65. 
Russell 2000 (IWM) 155-156 Key support 158 pivotal 161.11 resistance.
Dow (DIA) Made a new all-time high at 278.05 last week. 275 now nearest support
Nasdaq (QQQ) Inside day and week. All-time highs at 201.72. 199.20 support.
KRE (Regional Banks) 55.74 July high now pivotal support 57.52 next resistance 
SMH (Semiconductors) 134.28 all-time high. Breakaway gap intact if holds 130
IYT (Transportation) 195 support and must clear 201.48
IBB (Biotechnology) 110.93 the July high which this could not get to. 107 nearest support.
XRT (Retail) 44 now the pivotal support. 45.68 May high.
Twitter: @marketminute
The author may have a position in the mentioned securities at the time of publication. Any opinions expressed herein are solely those of the author, and do not in any way represent the views or opinions of any other person or entity.