The S&P 500 (NYSEARCA: SPY) closed the week the week with a very small range and the near-term pullback expected from last week's video.
In fact, the near-term line (blue line) has already bounced above the chart's midpoint on all the major indexes except the NASDAQ (NASDAQ: QQQ). This pattern leads to expectations of a bullish near-term move higher to new highs in the next week or two.
The weekly Market Forecast actually shows an overbought cluster. In this case, overbought clusters in the infancy of an intermediate (green line) is actually a good sign for risk appetite. See chart below.
The S&P 500's pullback this week was relatively weak. The decline reached the 23% Fibonacci retracement level on the futures contract during extended hours trading.
This week's range was much smaller compared to last week's range, which is also not surprising coming after a breakout week where the S&P 500 climbed back above both its 10-week and 40-week EMAs. But, this week also produced a strong bullish candle on its Heikin Ashi chart. This is a good sign going into next week that another strong bullish candle will follow.
The 9-day SMA of the S&P's MACD crossed above zero, which is another sign of an emerging multi-month intermediate run.
The S&P 500 is sitting near the Value Area High of its 1-year Volume Profile. A breakout above 292.50 would signal that the proverbial train has left the station.
Get market insights, stock trading ideas, and educational instruction over at the Market Scholars website.
Stock Market Video – For the Week of June 16, 2019
Unlike last Friday, the VIX dropped to its lowest level of the week heading into Friday's close in a sign that investors aren't nearly as wary about weekend news or tweets that could create another Monday morning downside gap.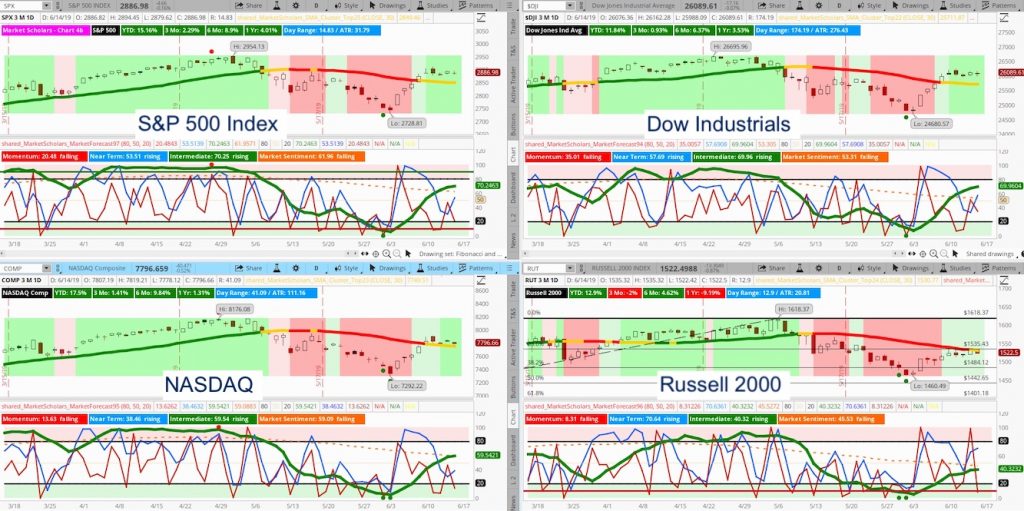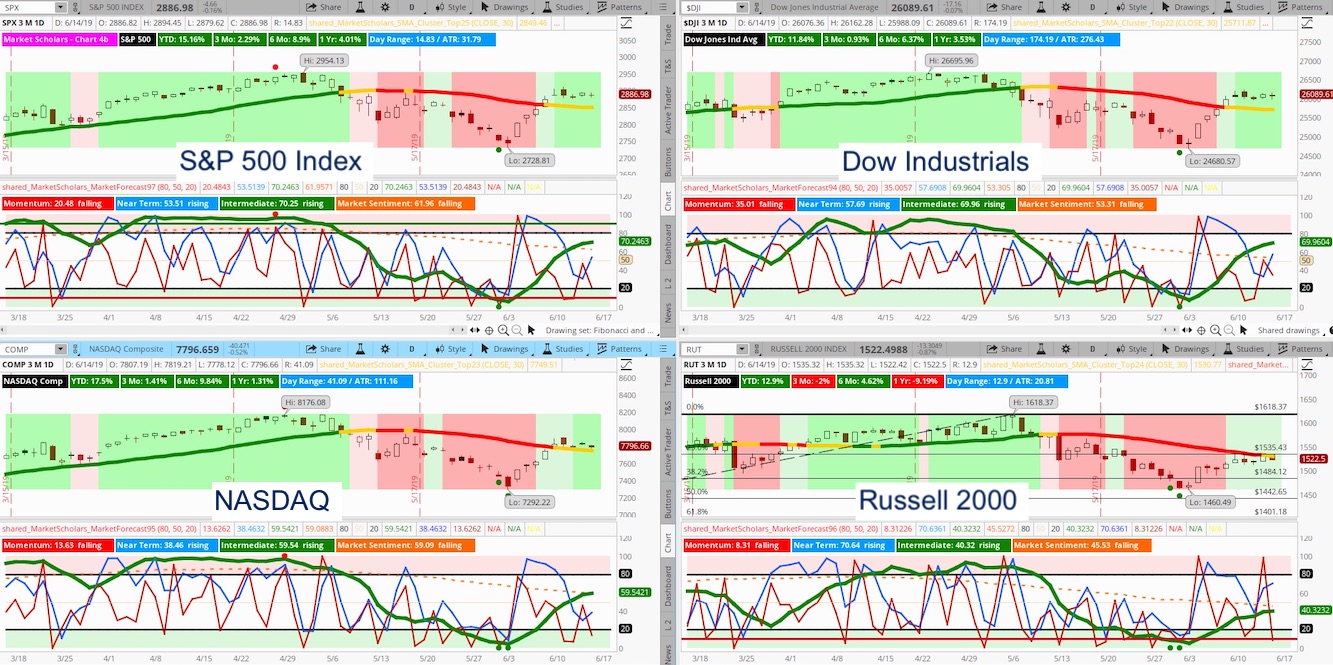 Summary: We expected near-term (blue line) weakness this week and we got it. But, the weakness not definitely not strong enough to alter the intermediate outlook that stocks are set for another multi-month leg higher.
Of course, the initial surge won't be the same as coming off the Christmas Eve lows due to lower current volatility. But, the summer months may be filled with a low-volume grind higher before we head into a typically volatile September and October.
Twitter: @davidsettle42 and @Market_Scholars
Any opinions expressed herein are solely those of the author, and do not in any way represent the views or opinions of any other person or entity.