As we approach the 4th quarter of 2018, we would like to opine on how we see the remainder of the year playing out within the investment landscape.
Soon after we gave our market outlook at the beginning of the year, there was a significant move in increased volatility which remained for the first quarter and continued for a good portion of the second quarter.
With that, the equity market (measured by the S&P 500) certainly showed weakness and had many investors believing that this may be the end of the robust bull market that had offered gains of over 180% since the beginning of 2010.
But in early April after barely piercing the 40-week moving average (of course, the technician in me really appreciates this), buyers stepped in and the S&P 500 has remained in an uptrend since recently making new closing highs.
In addition, overall performance is sound at +9% year-to-date.
S&P 500 Chart – YTD 2018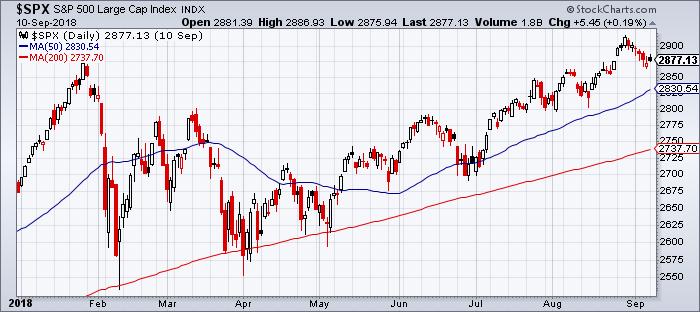 That said, the next month or two may see a return of volatility and the market may come under some pressure as September and October have historically been months of increased market volatility and equity market weakness.
So just as we felt we could see volatility in the beginning of the year, we believe we could see it again over the near-term. And similar to early 2018, we think investors will look at any market weakness as short-term and view it as a buying opportunity.
As well, we are fortunate enough to have seasonality on our side the closer we get to November, which begins the best six months of stock market performance historically.
We would like to highlight a few fundamental factors that we believe are also positive at this time.
Interest rates have slowly been rising as the Federal Reserve has been increasing rates to normalized levels, with the target level of 1.75 – 2.00 percent and the effective rate around 1.90 percent. We mention this because some investors fear higher rates, but historically stocks, and also commodities, perform well in a rising rate environment.
Other catalysts for stocks are lower personal and corporate tax burdens which should lead to consumer spending and private sector hiring. One last positive that we would like to highlight is the August ISM manufacturing index reading that came in at 61.3 from 58.1 while the consensus was for a small decline. This is a level that came very close to the highest reading of 61.4 seen in 2004. The indicator was broad-based, although the main drivers were production and new orders. New orders are usually recognized as a leading indicator for the economy.
Two themes that we would like to highlight before closing:
Millennials: First is the continued preference of Exchange-Traded-Funds, with 91% of Millennials saying ETFs are their investment vehicle of choice. We feel that ETFs and all ETPs will continue to gain popularity and become more widely used by investors of all levels.
Impact Investing & ESG: Secondly, according to Nuveen's Third Annual Responsible Investing Survey in 2017, 8 in 10 investors want to see their investments deliver competitive returns while promoting positive social and environmental outcomes. We believe very strongly in ESG and Impact Investing and feel that not only individual investors feel this way, but institutional money, which has been investing in this arena, will continue to do so and possibly increase more of their investment dollars in these investments.
In closing, we are certainly not saying everything is perfect and the market is without headline risk, which there has been plenty of during the course of 2018, but we also believe the current investment environment looks to remain positive for the equity markets.
Twitter:  @Snyder_Karl
The author does not have a position in mentioned securities at the time of publication. Any opinions expressed herein are solely those of the author, and do not in any way represent the views or opinions of any other person or entity.