Volatility returned to the stock market as the United States raised tariffs to 25% on imports entering our country from China as trade talks with China hit an impasse.
The price action (selling) says investors are feeling anxious.
The tariffs imposed by the U.S. on China are not long-term punitive tariffs and an offer has already been extended to the U.S. trade delegation from China to continue negotiations.
The incentive of large economic gains for both the U.S. and China that will result from a strong trade deal makes it seem a distinct probability that the two sides will eventually iron out an acceptable deal. 
Meanwhile, stock market volatility (INDEXCBOE: VIX) will likely continue and is not surprising given that the S&P 500 Index (INDEXSP: .INX) was experiencing its second-longest rally absent of a 3% correction since 2009.   Against a backdrop of better-than-expected first-quarter earnings numbers, moderate economic growth, low interest rates and an accommodative Fed, we expect the stock market has more room to continue on the upside.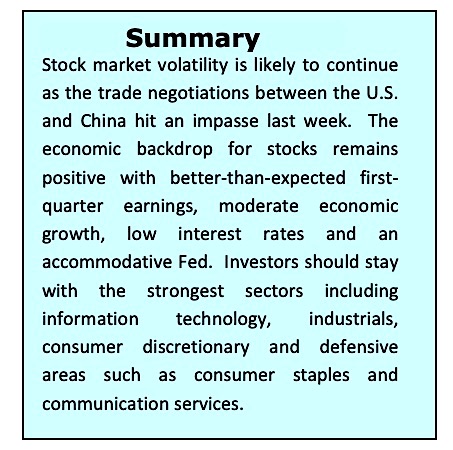 We recommend focusing on the strongest sectors in the market which are communication services, consumer discretionary, information technology, consumer staples and real estate investment trusts (REITs).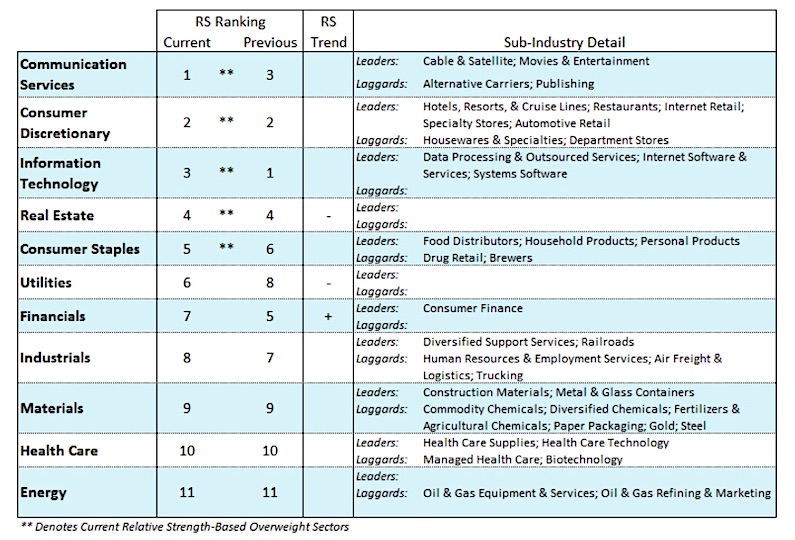 The technical picture is mixed as investor sentiment, including put to call ratios, and the CBOE Volatility Index showed a move away from excessive optimism.  From a contrary opinion standpoint, we view this as a near-term positive.  However, the American Association of Individual Investors (AAII) continues to show the mood of investors increasingly optimistic.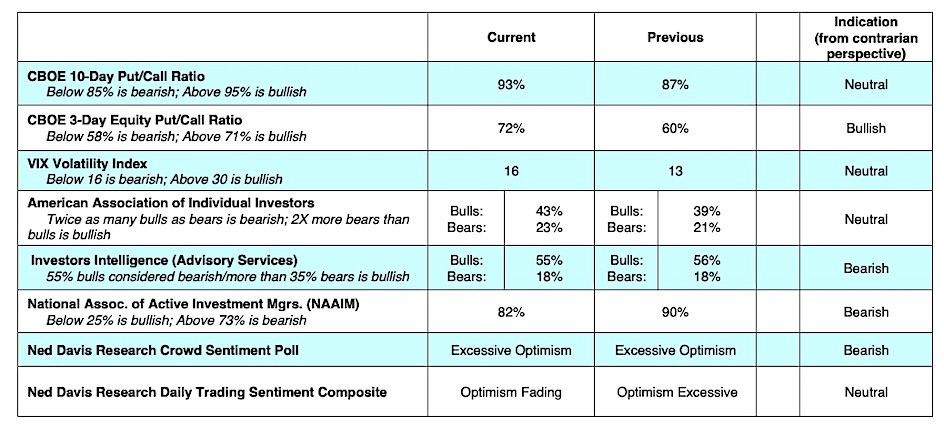 The Ned Davis Daily Trading Sentiment Composite fell out of the excessive optimism zone last week but short of turning pessimistic. Stock market breadth remains problematic.  Despite the recent high in the NASDAQ Index less than 50% of all NASDAQ stocks are trading above their 50-day moving averages.  The number of stocks hitting new 52-week lows expanded last week and should this trend continue would point to a further decline.   We would like to see pessimism more widespread with market breadth improving to conclude the pullback has run its course.
Twitter: @WillieDelwiche
Any opinions expressed herein are solely those of the author, and do not in any way represent the views or opinions of any other person or entity.