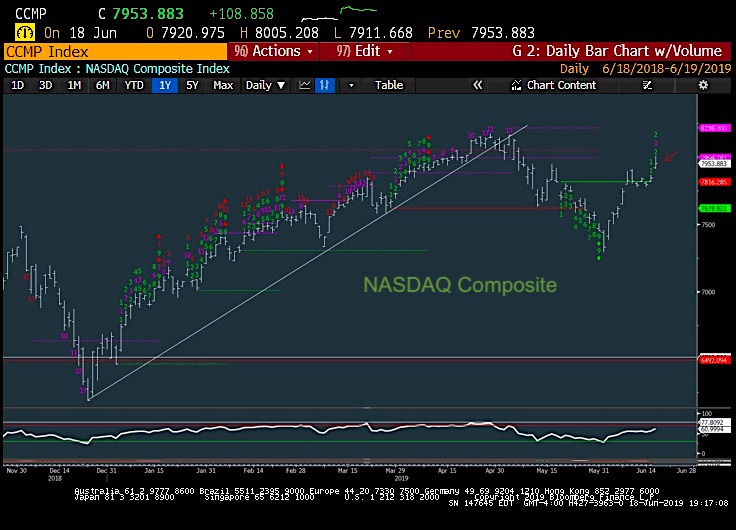 NASDAQ Composite Trading Outlook (3-5 days): Bullish
The NASDAQ, along with the S&P 500 and Dow Jones Industrial Average all jumped to new June highs, within striking distance of peaks made in April.
Volume and breadth are expanding which is a step in the right direction for the Bulls (near-term).
The NASDAQ is shown here as it tends to be the one index to concentrate on for those interested in leading sectors and stock indices.
The NASDAQ peaked a full month ahead of the broader stock market last Fall, and currently shows no divergences. It's thought that a move into April highs should occur before any reversal and likely gets above this area into July/August.
Thus, while we might be extended intra-day and could benefit from a minor pullback post Federal Reserve, any pullback is thought to be a buying opportunity for a rally into June 24/25.
S&P 500 Trading Outlook (3-5 Days): Bullish to 2930-2945
Yesterday's rally above 2910 was worth following for a move which likely gets up a bit higher to test April highs before any real top. SPY volume doubled the prior day's totals and breadth came in at 3.5/1 positive, all Pluses.
If you have an interest in seeing timely intra-day market updates on my private twitter feed, please follow @NewtonAdvisors. Also, feel free to send me an email at info@newtonadvisor.com regarding how my Technical work can add alpha to your portfolio management process.
Twitter: @MarkNewtonCMT
Author has positions in mentioned securities at the time of publication. Any opinions expressed herein are solely those of the author, and do not in any way represent the views or opinions of any other person or entity.