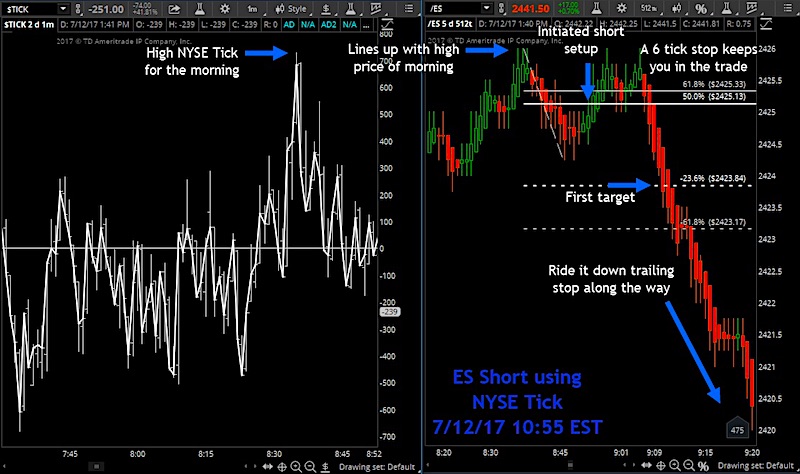 I've been trading the S&P 500 futures (ES) for several years and always enjoy sharing my learnings and insights.
Below is an account of my trading day and with insights on using the NYSE Tick to enhance trades.  You can read more on using the NYSE Tick in trading here.
On Tuesday July 12 around 11 AM EST the market sold off hard. It was a great day of trading that just got better. Here is how I placed my short entry ahead of the selloff and was able to ride it down for a big gain.
The NYSE Tick is a great tool for those day-trading the ES. It gives you a real time indication of when stocks in the NYSE have ticked one direction or another (up or down).
This particular morning we saw a spike in the NYSE tick, the highest tick reading for the morning, at the exact same time that we made a high price. This confluence of the two is an indication that this could be the high of the morning, and indeed it was.
Upon seeing this occurrence, I place my short setup using a simple Fibonacci retracement, entering at the 50%. I like to use a 6 tick stop on the ES and as this example shows, even though the first few minutes of the trade took about ticks of heat, 6 ticks is plenty to keep you in the trade.
Once the market gets moving in our favor, it's just a matter if sitting back and trailing your stop, trying to stay in the trade as long as possible. I do this by trailing swing highs on the way down.
See the adjacent NYSE Tick and ES charts for more detail on the exact entry and a breakdown of the trade.
The NYSE Tick is a great tool for intraday traders and combined with a simple entry technique can be a repeatable way to place trades each day in the markets.
Thanks for reading.
Twitter:  @EminiMind
Any opinions expressed herein are solely those of the author, and do not in any way represent the views or opinions of any other person or entity.