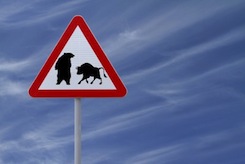 Small cap benchmark Russell 2000 (symbol: RUT; futures symbol: TF) just attained a major milestone in its history today, crossing over 1000 for the first time ever.  Now up 14.5% YTD (just outperforming the S&P 500 by 0.3%) and a bona-fide four-digit index (intraday, anyway!), sadly no one seems to be pressing t-shirts or making hats to honor (though it would be fit and proper for the FOMC to don some at its June meeting to celebrate their mutually-shared success) the under-covered measure.
In the latest installment of the Russell 2000 series here on See It Market, we pointed out "strong technical indications suggest this may be the start of a move through 1000" with the break above the 951.3 all-time high set on 03/25/2013.  Here was our look in on R2k on 05/03/2013 (click image to zoom):
Clean breakouts such as this are sometimes difficult to believe, but with a plan for adverse scenarios (e.g. a break back below 948-950) and for protecting profit as it comes (e.g. trailing stops) the results can be fantastic.  Now more than 5% and just shy of 50 points higher in 11 trading days, Russell 2000 has all-but attained its pattern targets just as it begins to contend with 1000 (click image to zoom):
What happens next? As of the moment, my expectations are modest here: Russell 2000 has run 11.9% in 19 trading days and is due for a rest: the round number resistance with medium-term pattern targets clustered just above seems a likely place.
But this post isn't about picking levels or plotting projections. After a blistering run, Russell 2000 has tagged 1000: it may not have the headline flash of Dow 10k, but typifies as well as any milestone met lately the seemingly tireless bull market we're racing through.