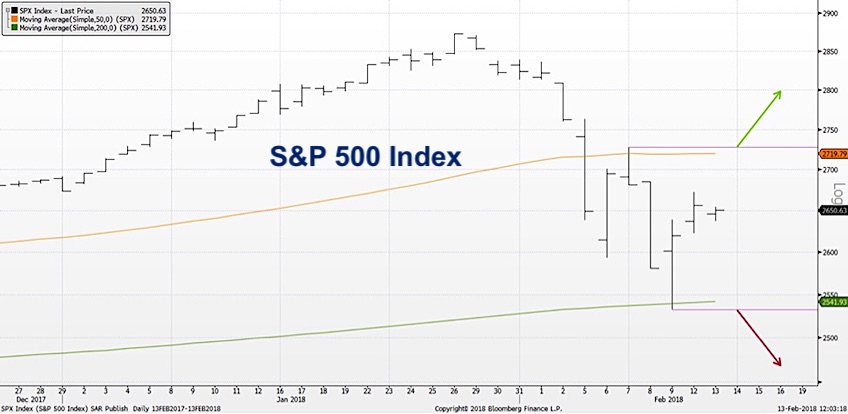 After a 12% correction over the last two weeks, traders are left to question what the next two weeks and beyond may have in store.
The good news is that the short-term upswing this week created a perfect framework for evaluating the next move for the S&P 500: A range-bound stock market.
After violating the 50-day moving average last week, the S&P 500 quickly returned to this key short-term gauge. On Feb 7th, the index traded above the 50-day before trading lower to close at the lows for the day.
Two days later, the S&P traded down to the 200-day moving average before trading higher to close above the open. This three-day pattern essentially confirmed the range of the S&P 500 between these two key moving averages.
Moreover, as the daily trading range has narrowed this week, we are presented with a clear set of guideposts to help us determine the next move. That's the beauty of a range-bound stock market.
Although a sideways tape is possible for days or even weeks, it is much more likely that the S&P 500 will soon break above the 50-day moving average or below the 200-day moving average. This requires either patience or discipline… or both.
Many stocks are in a similar configuration. For example, let's look at the chart of Facebook (FB).
Here we see a very similar pattern, with a bounce off the 50-day moving average and subsequent retest. FB then traded down to the 200-day moving average and has seen lesser daily trading ranges since the most recent low.
With a short-term pattern of lower lows and lower highs, the weight of the evidence is bearish until proven otherwise. If stocks like FB confirm a breakdown of the 200-day moving average in the coming days or weeks, then much further lows may be in store.
You can gain deeper insights and more meaningful analysis over at Sierra Alpha Research. Thanks for reading.
Twitter:  @DKellerCMT
The author may have a position in mentioned securities at the time of publication.  Any opinions expressed herein are solely those of the author, and do not in any way represent the views or opinions of any other person or entity.