The Swiss National Bank made a bold move overnight, deciding to remove its three year cap on the Franc to Euro. The decision caught the currency markets (and global financial markets) by surprise, rocking the Euro, and in turn, the Forex. Some were preparing for Grexit or Brixit, but not Swixit.
In all seriousness, the Euro Zone is in big trouble here with more than a few member states pressuring the EU. Perhaps the Swiss didn't want to be a part of the coming ECB bond buying / QE experiment. Nonetheless, the Swiss National Bank said that the move was not made in a panic, but rather a well thought-out decision.
Take a look at the EUR/CHF overnight crash, as the Euro weakened and the Swiss Franc strengthened almost 30 percent: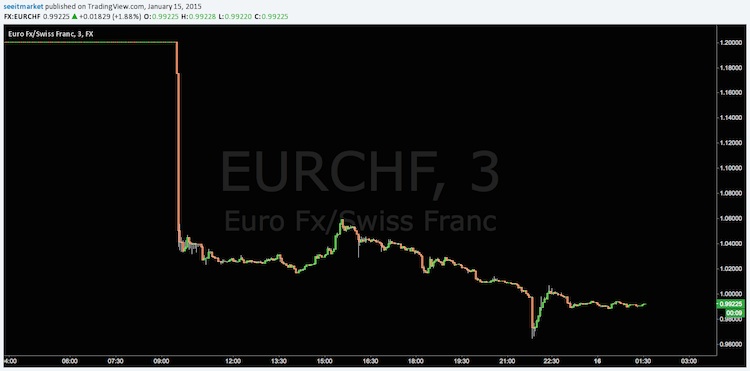 Traders may not have seen this one coming, but something like this was likely inevitable to occur. And now the big concern is contagion – will other member states be emboldened by the Swiss move? The tension in the Euro Zone is almost palpable, as the Euro has been collapsing in the face of slowing to no growth and deflation. As well, EU member states are now caught in a constitutional debate over the validity of a bond buying program and how it would/will work. Politics has definitely been in play for some time, but I guessing that this doesn't go over well with the average worker in the Euro Zone.
I wrote a piece highlighting 3 reasons for the recent volatility in the markets and the Euro and European Zone was at its center. And these concerns are beginning to form a global narrative that "things aren't quite right." Even the seemingly invincible US Equity markets have seen wild swings in October, December, and again in January. And the S&P 500 has fallen nearly 3 percent in the past 3 days, as investors race for Bonds… the 20 year+ bond ETF (TLT) closed today at all time highs (134.91).
Perhaps the highly anticipated ECB bond buying program will inject make investors forget about the underlying issues for a while, but I have a feeling that this may fester for some time to come.
Follow Andy on Twitter:  @andrewnyquist
Swiss country/flag image courtesy of Wiki Commons. Any opinions expressed herein are solely those of the author, and do not in any way represent the views or opinions of any other person or entity.