While the financial media and its various pundits continue to blabber on about a "market in turmoil" technical traders choose instead to focus on what matters…the charts and quality trading setups.
I am of the opinion that the very best traders focus on adapting their trading edge to current market conditions by anticipating opportunities, both bullish and bearish, while turning off all the noise that inhibits them from doing so. Let's turn off the noise shall we and take a look at a few trading setups for select stocks.
Our trading edge is focused on applying the economic concept of supply and demand to stock prices, known as resistance and support in technical jargon. Visually, we refer to these areas as boxes.
When the supply/demand dynamic changes we want to be involved, able to take advantage of the change as supply becomes demand; demand becomes supply.
Let's take a look inside a few stocks in boxes and the opportunities that may await us there. Do let me warn you, however, that great trading setups are lacking under current market conditions. The following are, in my opinion, mediocre at best. I am comforted in the fact that in times past some of those that I had the least faith in, surprised me by surpassing even my fondest expectations. So much for predicting winners.
BULLISH TRADING SETUPS
Tyson Foods (TSN)
TSN stock price action triggered a trade on November 23rd when the price broke free from its boxed resistance around 47. After hitting a trailing stop it is chopping sideways forming a new box for a potential new break. Maybe earnings on 2/5 can be the catalyst for it to do so and hit new highs at the same time. One of the trading setups on my radar.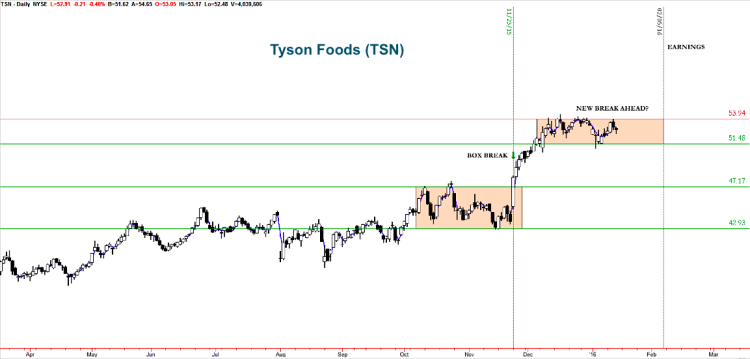 Nisource Inc. (NI)
NI's stock price is trending higher and broke a closing price box but has a supply area to overcome. If it can break the 20.15 level then resistance could become support, changing the supply/demand dynamic. Earnings are 2/18 and could be a catalyst for higher prices with this trading setup.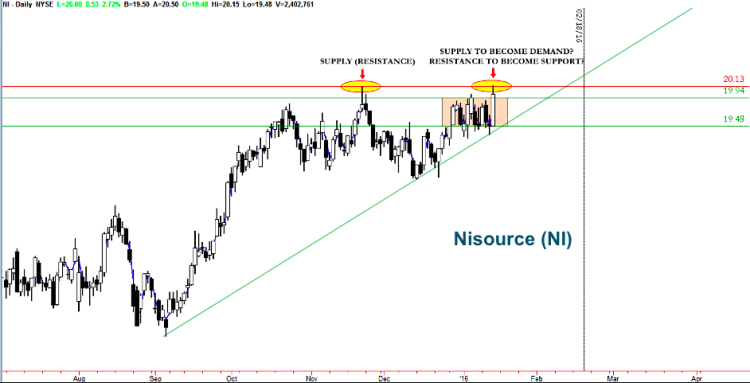 BEARISH TRADING SETUPS
GNC Holding Inc (GNC)
GNC's stock has exhibited some interesting price action the past several months with those long wicks, which do provide us with a couple of targets to shoot for. GNC did break a box today along a descending trend which began last August. Now let's see if we can begin moving toward those wick bottom targets. Earnings are 2/11.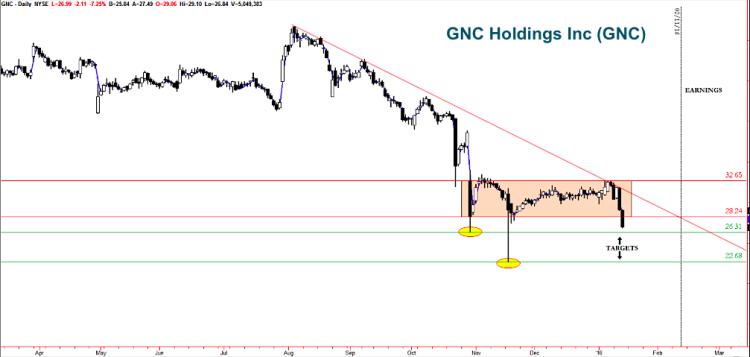 Pan American Silver (PAAS)
PAAS broke its box along a descending trend but did so right above a major support level from July to September 2015. Let's see if Pan American Silver (PAAS) stock price can break this support and become resistance, changing the supply/demand dynamic. Earnings are 2/18.
I do wish I had more trading setups to discuss but the market has a way of making us look foolish, especially when we expect more of it than it rightly deserves.
Want to learn the various ways support and resistance can sharpen your trading edge? Reach out to me I'll provide a few ideas.
Twitter:  @crosshairtrader
The author has a short trading position in GNC at the time of publication.  Any opinions expressed herein are solely those of the author, and do not in any way represent the views or opinions of any other person or entity.