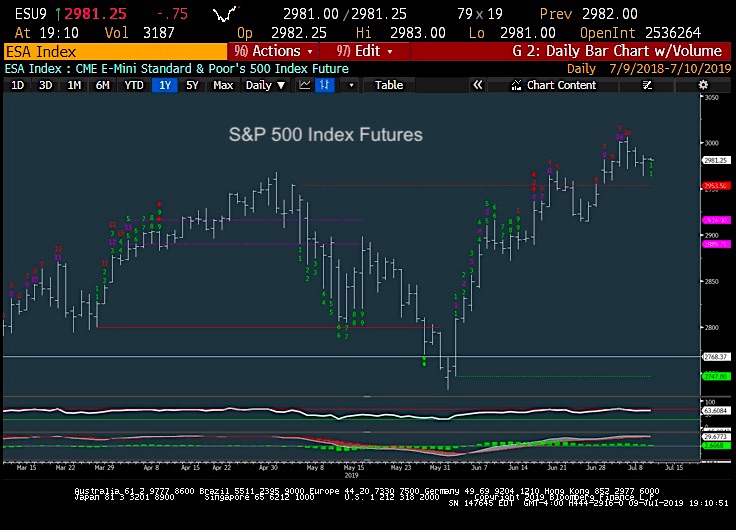 S&P 500 Index (INDEXSP: .INX) Chart – July 10 Analysis
Outlook (3-5 days): Bullish
Further strength likely to challenge and exceed last week's highs at 3006. Dips can be bought near yesterday's lows around 2963.
The S&P 500 looks to be starting its recovery after three down / subdued days. A push higher looks likely, with initial targets at 3006, and above that leading to a quick move up to 3041.
For now, pullbacks have failed to cause any real damage, counter-trend exhaustion is premature, and groups like Technology are beginning to show strength (Semiconductors and even the FANG group).
This should be a welcome development for Bulls and longs are favored, looking to buy any dips if given the chance at 2965 down to 2953 with targets initially near last weeks highs.
Around the Markets…
US financial markets shrugged off early losses to close at a mild positive (S&P 500, Dow Industrials) while NASDAQ made much better progress, thanks to robust gains in Technology and a much needed bounce out of the Biotechs. While prices failed to get back above Monday's highs, they did manage to close back above the last three days lows, which had been undercut early in the day.
Stock market breadth improved steadily through yesterday's session and by the close, managed to log a positive Advance/Decline reading. Technology and Financials showed strong gains, while Materials underperformed yet again, largely attributable to US Dollar gains. Transports remained a relative weak spot for markets yesterday and Emerging markets also lagged, with China's HSCEI falling to multi-day lows.
Overall, the resurgence in "FANG" names is thought to be a real positive for Technology in the short-term and SOX showed some meaningful evidence of reversing course yesterday after four straight down days, and Tuesday's close finished above both last Friday and Monday's, which is thought to be constructive for further gains. The Dollar continued its push higher, meanwhile, while Treasury yields pushed right up to last week's highs and look likely to begin a larger bounce.
The Bottom line: The near-term structure still looks quite positive for Equities for the days and weeks ahead, and this minor pullback we've seen has done little to no real technical damage. The combination of Technology and Financials along with Biotech roaring back within Healthcare are all thought to be positives that likely lift indices back to new highs.
If you have an interest in seeing timely intra-day market updates on my private twitter feed, please follow @NewtonAdvisors. Also, feel free to send me an email at info@newtonadvisor.com regarding how my Technical work can add alpha to your portfolio management process.
Twitter: @MarkNewtonCMT
Author has positions in mentioned securities at the time of publication. Any opinions expressed herein are solely those of the author, and do not in any way represent the views or opinions of any other person or entity.