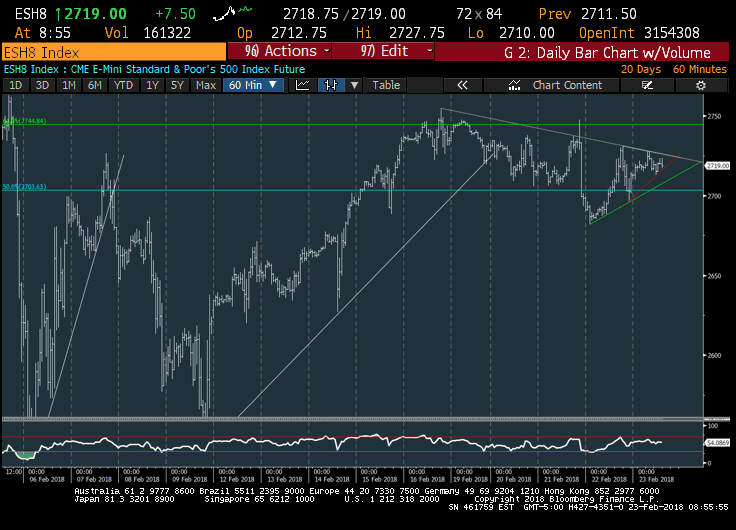 S&P 500 Futures Short-Term Trading Outlook:  Mixed
Traders are staring at a near-term range-bound stock market. This offers opportunity for those that are nimble and disciplined.
However, for those looking specifically at the trends, they want to be watching 2754 on the upside and 2682 on the downside. Any move above 2731 should help bulls test that big 2754 level.
We are still in the consolidation stage and there is no clear cut direction for traders just yet… Instead, we are dealing with an uptick in volatility.
The S&P 500 is only about 10 handles down from levels seen late last week, but lots of intra-day volatility and increasing signs of rallies being snuffed out over the last few days.
The NASDAQ Composite has been lower the last four days – 7200 on the NASDAQ is an important level. Any close below this level would suggest that a drawdown is underway, while remaining above keeps the market neutral to bullish.  I'm also watching the financials to see if they bounce back… or roll over.
Breadth and momentum are beginning to wane,  so something bullish needs to happen quickly to prevent a retest.
If you have an interest in seeing timely intra-day market updates on my private twitter feed, please follow @NewtonAdvisors.  Also, feel free to send me an email at info@newtonadvisor.com regarding how my Technical work can add alpha to your portfolio management process.
Twitter:  @MarkNewtonCMT
Author has positions in mentioned securities at the time of publication. Any opinions expressed herein are solely those of the author, and do not in any way represent the views or opinions of any other person or entity.