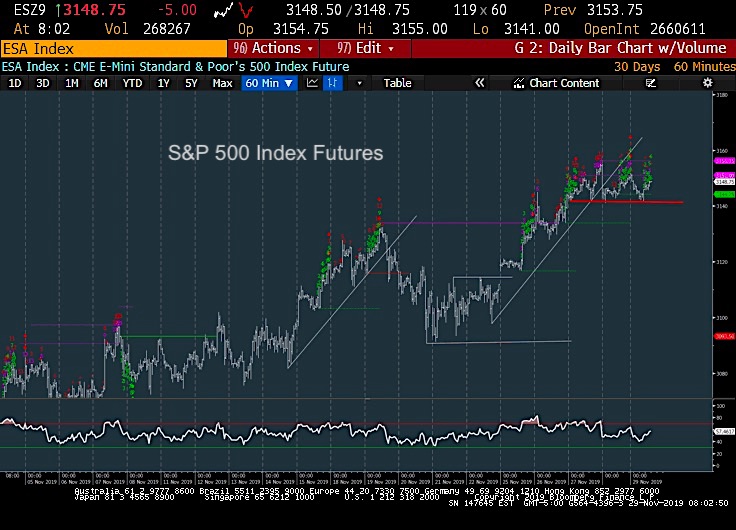 S&P 500 Index Futures Trading Chart
S&P 500 Index Trading Outlook (3-5 Days): Expect stalling out.
Monday/Tuesday looks important.
Price area between 3150-60 on S&P 500 important. Sell strength and consider long implied volatility into early December.
The S&P 500 Index has moved sideways since Wednesday's close.
Key price area will be 3141 on the downside for S&P 500, while up at 3151.75 is key heading into Monday's session.
Breaks of either side should lead to follow-through. Normally sideways patterns like this are 4th wave consolidation types which can lead to a final push higher, in this case, potentially up to 3155-60. But we'll be open to any outcome.
If you have an interest in seeing timely intra-day market updates on my private twitter feed, please follow @NewtonAdvisors. Also, feel free to send me an email at info@newtonadvisor.com regarding how my Technical work can add alpha to your portfolio management process.
Twitter: @MarkNewtonCMT
Author has positions in mentioned securities at the time of publication. Any opinions expressed herein are solely those of the author, and do not in any way represent the views or opinions of any other person or entity.