The stock market gained ground last week in dull holiday trading, as I pointed out in the latest Market Week show.
The S&P 500 Index rose 31 points to 3141, an increase of 1%.
On Wednesday, stocks hit new all time highs but later slumped after President Trump signed legislation in support of the Hong Kong democracy protesters.
This had limited impact on markets though as it occurred on the evening before Thanksgiving. China responded with nonspecific measures, signaling that they will not let this affect the ongoing trade talks.
Our approach to technical analysis uses market cycles to project price action.
Our analysis is that the SPX will flatten out up here, as shown on the chart above. With the index having shifted to an 18-day cycle, our target is $3115 within the context of the current 9-day minor cycle.
S&P 500 (SPX) Daily Chart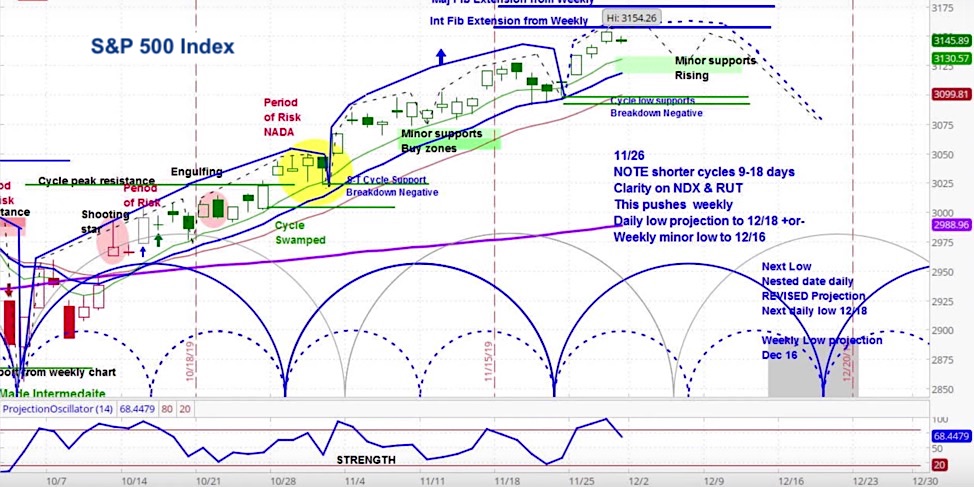 "Market Week" Video – Stock Market Outlook week of December 1
For the "Best and Worst Stocks of the Week" check out the askSlim Market Week show every Friday on our YouTube channel.
Twitter: @askslim
Any opinions expressed herein are solely those of the author, and do not in any way represent the views or opinions of any other person or entity.