If you are like me, every time you see a butterfly, a smile stretches across your face.
They are exquisite flutters of color that glide from flower to flower-pollinating plants around them.
Furthermore, if you are like me, every time the market rallies, a smile stretches across your face.
With earnings season upon us and a dovish Federal Reserve, the buyers are also exquisite flutters of color that glide from instrument to instrument, pollinating them with liquidity.
Alas, nothing lasts forever.
Right now, the market butterflies look content as they busily pollinate.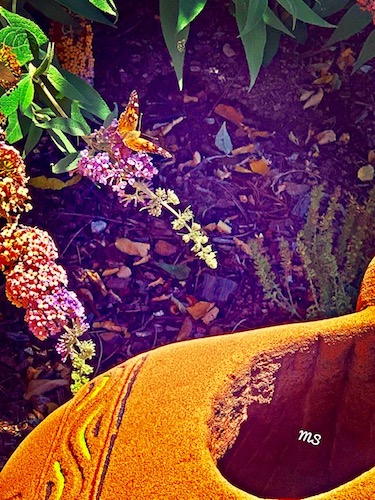 But what happens when the remaining blooms of the butterfly tree fall off?
Here is that nagging divergence again in the Modern Family versus the S&P 500, Dow and NASDAQ 100.
The SPY, DIA and QQQs flutter at new highs.
Yet, the Russell 2000 IWM closed red.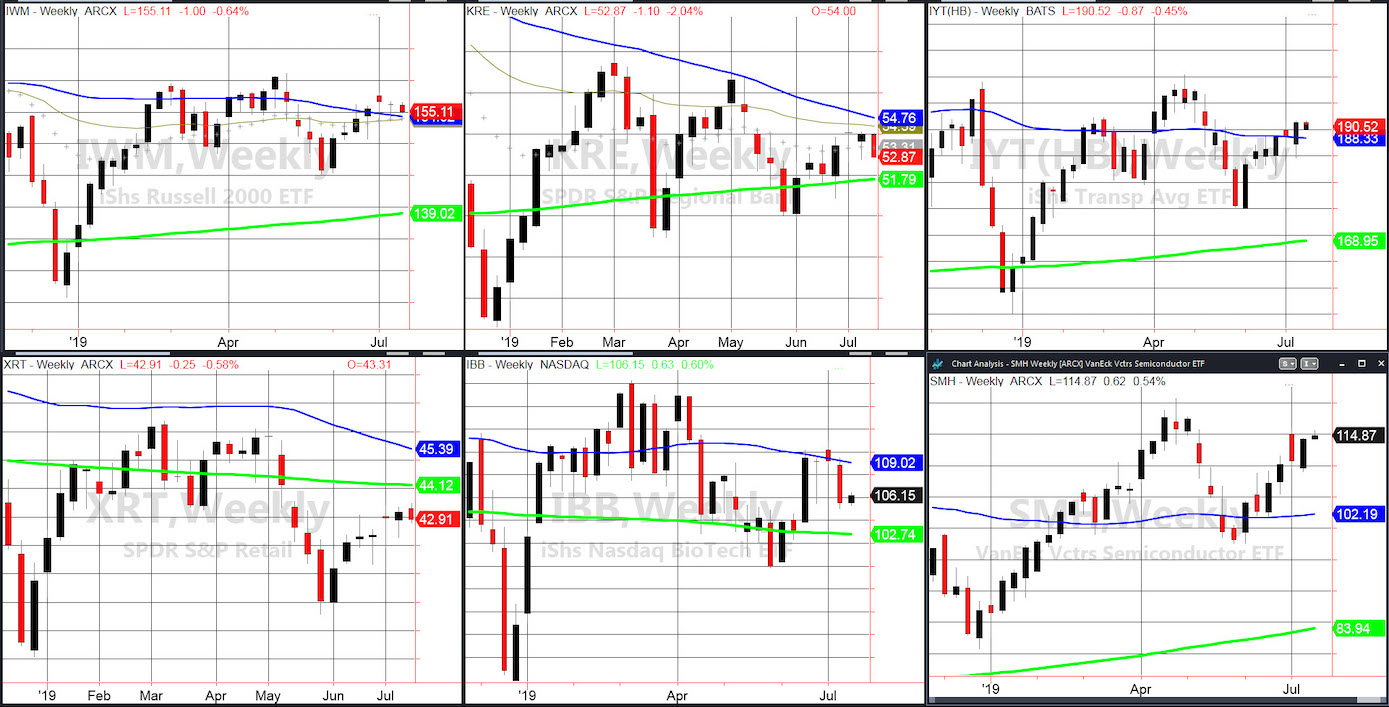 Best we can say is that IWM is feeding off the blooms of the negatively sloped 50-week moving average.
But are those blooms fading? Quite possibly.
Regional Banks KRE faded-plain and simple.
Transportation IYT, has yet to sound any alarms since it is holding 188.35, the 50-WMA. This is the area to watch carefully.
Retail XRT, must hold 42.45 and head back over 43.15, which is a shorter-term weekly MA. If that fails, another butterfly bloom dies.
Biotechnology IBB, is trading inside last week's trading range as of Monday. That needs to hang in there as well.
Semiconductors SMH, remains the most exquisite butterfly of the Family.
115.96 was the high price it traded at On July 1st. Today's high was 115.59.
So there you go…
Once again, we are waiting to see if SMH can keep IYT and IWM above the support levels and thereby become the species of butterflies that live on for several months.
Otherwise, we are left watching to see if KRE, IBB and XRT, who could very well become the species of butterflies that only have one or two more weeks to live.
On another note, remember the weekend peak at the silver to gold ratio at its 90-year low?
It is close to flipping-very close.
Announcements
***I will be reducing the Daily coverage from 5 times a week to 3 times a week for the rest of the summer until after Labor Day. New schedule is Monday, Wednesday and Friday only.
S&P 500 (SPY) – 301.13 printed a new all-time high. 298.25 pivotal support.
Russell 2000 (IWM) – 154.55 is the major pivotal 50-WMA to hold. 158 resistance.
Dow Jones Industrials (DIA) – 273.58 the new all-time high. 269.60 pivotal.
Nasdaq (QQQ) – 194.19 the new all-time high. 191.50 support.
KRE (Regional Banks) – Unconfirmed Bearish phase. Over the weekend we mused that if this cannot clear 54.95 the 50 WMA, it could spell the end of the rally. Watch support at 51.80
SMH (Semiconductors) – 115.70-116 resistance. Support at 112.25 to hold.
IYT (Transportation) – Inside day. Confirmed bullish phase. The 50-WMA pivotal now-188.35. Still needs to clear recent highs at 191.48 on a closing basis.
IBB (Biotechnology) – 109.15 now resistance and 105.35 the 50-DMA pivotal support-which it held by the skin of its teeth.
XRT (Retail) – Confirmed Recuperation phase. Over 43.50 should continue higher. Major support at 42.45
The author may have a position in the mentioned securities at the time of publication. Any opinions expressed herein are solely those of the author, and do not in any way represent the views or opinions of any other person or entity.