In case you are wondering if this stock market can keep up the record pace of this epic bull run, wonder no more.
We have four simple stock charts to show you how to tell if risk is on or if money is getting defensive and pensive.
What Small & Micro Caps New Highs Say About The Health Of The Stock Market
The first chart in our diagram below (upper left) is the iShares Russell 2000 ETF (NYSEARCA:IWM) and to its right is the iShares Micro Cap ETF (NYSEARCA:IWC). Despite both turning bullish at the beginning of the year, they are now both breaking out to new highs.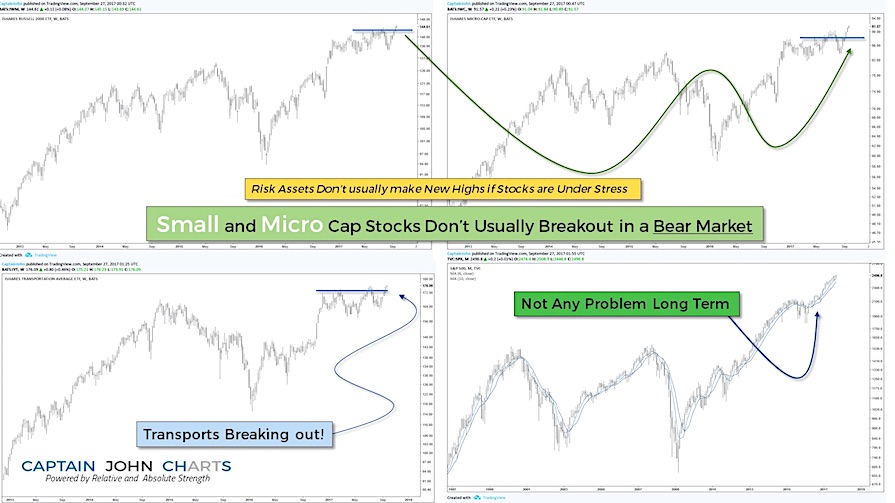 Risk assets such as Small and Micro Cap stocks do not breakout and run to new highs if stocks are under stress.  This is typically a sign of risk-on (from a macro perspective). And the Russell 2000 (INDEXRUSSELL:RUT) making new highs is confirmation.
Another confirming chart, according to Dow Theory, is the iShares Transportation Average (NYSEARCA:IYT). Transports are making new highs along with the Dow and are currently breaking out again. This is a positive reinforcement to the Risk On/Bull case. One of the many Macro views that we monitor is a Monthly stock chart of $SPX with a 6-month moving average and a 10- month moving average overlay.
Utilizing this simple system can aid in decisions of whether or not it's a good time to be in the market or to get defensive. When the 6 -month moving average crosses under the 10- month, prepare for a pullback. When the same 6-month moving average crosses above the 10-month, the primary trend of the market has turned bullish.
As of right now our moving average stock chart of $SPX (pictured in bottom right of chart) is still on a bullish buy signal.
The rising tide lifts every boat; even the little ones.
If you are interested in discussing our innovative investment models to earn substantially higher returns without taking on unwarranted risk, visit us at captainjohncharts.com or give us a call. We service financial professionals and investment clients.
Twitter:  @CptJohnCharts  &  @FortunaEquitis
The author has a position in the mentioned securities. Any opinions expressed herein are solely those of the author, and do not in any way represent the views or opinions of any other person or entity.