The overall headline number for the May Retail Sales Report was subdued. Retail sales fell by 0.3% in the month of May after a 0.4% increase in April.
The reading highlighted that only 6 of the top 16 retail sales categories were positive on a monthly basis.
But…
We must keep in mind that the longer term view was much better. The year over year growth in retail sales was 3.8%. This is still stronger than the 3.1% average seen in all of 2016, and higher than the 2.7% average of 2015.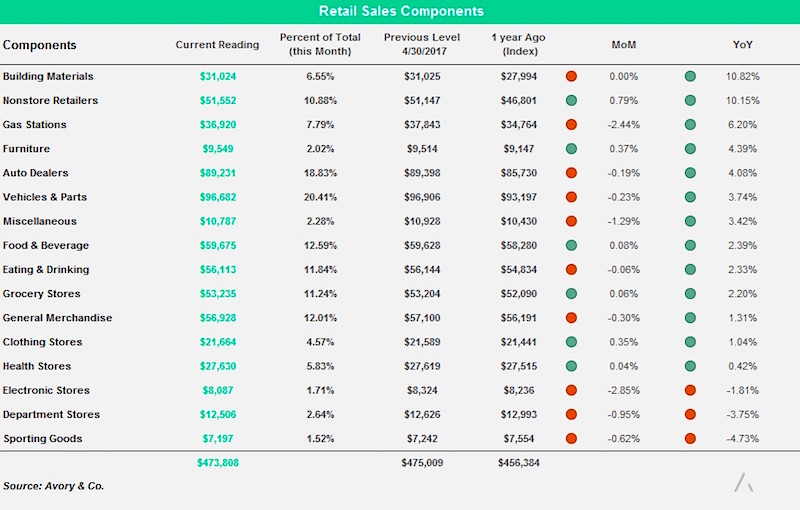 Department Stores Show Signs Of Life!
In addition, we are witnessing potential green shoots in department stores. I say this lightly, however the overall trend seem favorable for early birds looking for a bottom. As shown in the table above, department stores only make up roughly 2.64% of total retail sales. This is a really small number, and I question just how low can it go given that there are 53 metropolitan cities in the US with over 1M people.
The chart below highlights the year over year trends in department stores and online store retail. Department stores are trending above their year over year lows seen in late 2016, while online sales are trending lower from its peak. Online will continue to dominate however I ask softly, are department stores starting to come into equilibrium? Time will tell…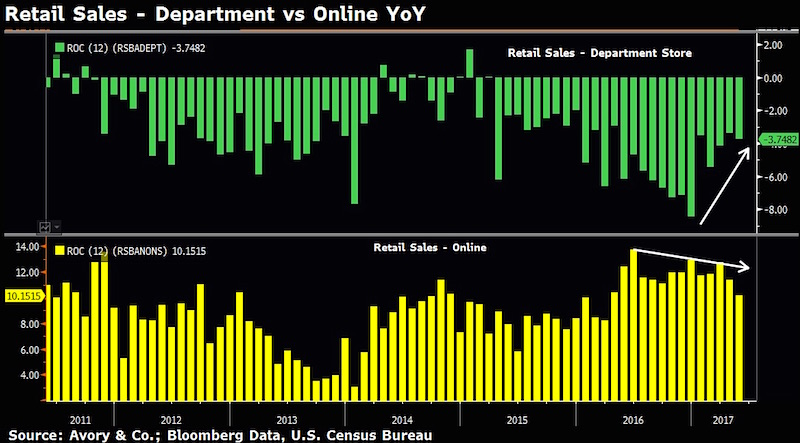 Have a good one everyone!
Twitter:  @_SeanDavid
Any opinions expressed herein are solely those of the author, and do not in any way represent the views or opinions of any other person or entity.