Key Investing Research Takeaways:
– Volatility returns as failure of stocks to breakout in September could be leading to October tests of support. 
– Copper resilient in the face of rising economic concerns.
– Gold and bond yields are in consolidation mode.
The fourth quarter is off to a volatile start as increased uncertainty about the economy has impacted stocks and expectations for additional easing by the Fed.
The S&P 500 recorded back-to-back declines of more than 1% to begin the quarter, as the lopsided daily moves that were present in August and disappeared in September have re-emerged in October. August had 12 trading days in which 420 or more S&P 500 stocks moved in the same direction. This dropped to just one such day in September while October already has two.
As we try to navigate the current circumstances and distinguish between noise and news, these are the charts and indicators to which we are paying the closest attention.
In mid-September, our Market Commentary discussed the Value Line Geometric Index in the context of improvement, but not yet enough to turn breadth bullish. After failing to break above its July peak near 540, the pattern of lower highs on this index is intact. A failure to hold support near 490 would confirm the continuation of the down-trend.
Likewise, the percentage of S&P 500 stocks trading above their 200-day averages failed to breakout in September and could be poised to test the August low near 50%.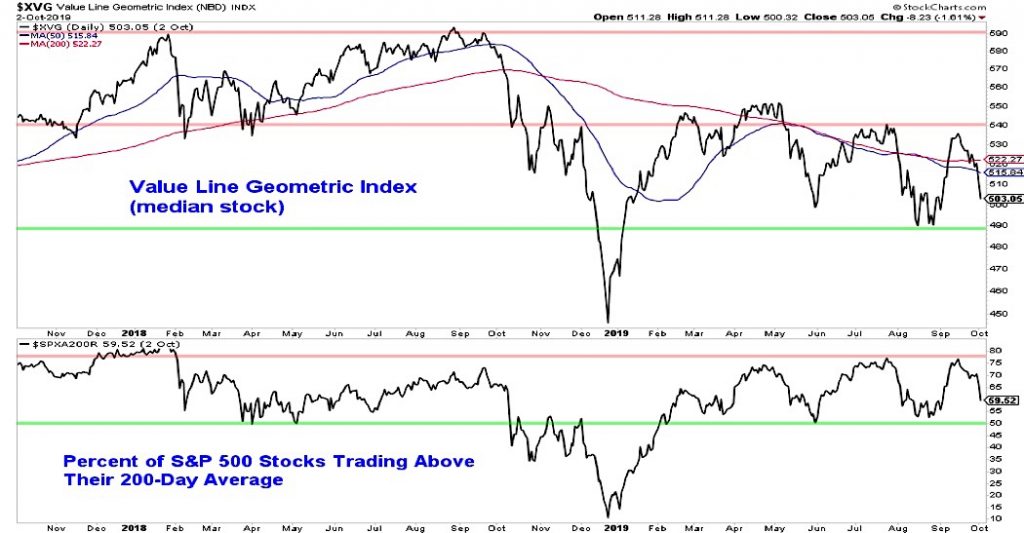 If there was one recurring theme across various sectors of the equity market in September it was a lack of new highs. The rotation that occurred over the second half of the month came as previous leaders generally failed to breakout.
The semiconductor index is a good example of this. The SOX index rallied in September but it failed to eclipse its previous peak and the pattern of lower highs that has emerged from a momentum and relative price perspective remains intact. The SOX led the initial rally off of the late-2018 lows, but that leadership has waned in recent months.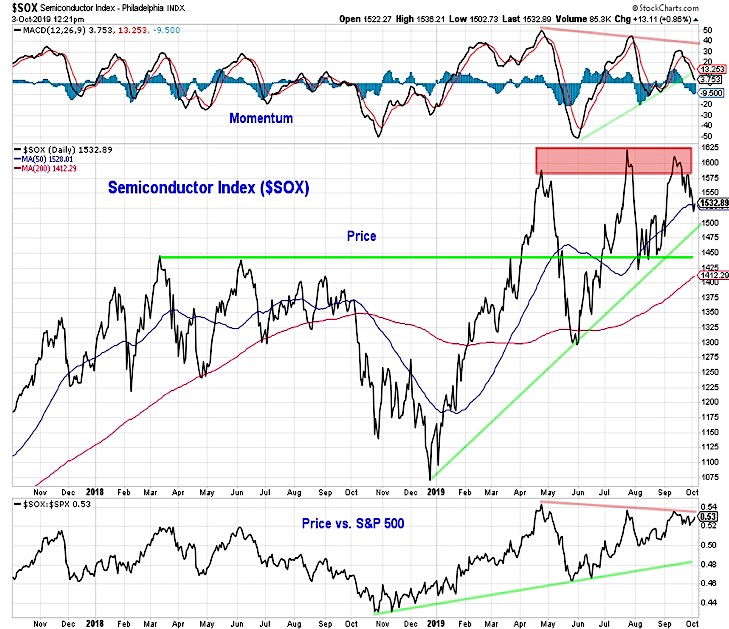 The discussion so far has been about the less-than-bullish implications of failed breakouts. Copper may be sending a different signal – the less-than-bearish implications of failed breakdowns. Copper has tested and held well-tested support even as the economic news deteriorated this week.
If sustained economic weakness were emerging, copper would likely be making new lows. That has not been the case so far. If copper can rally in the wake of these successful tests of support, it could be a bullish signal for the global economy overall and emerging market stocks specifically.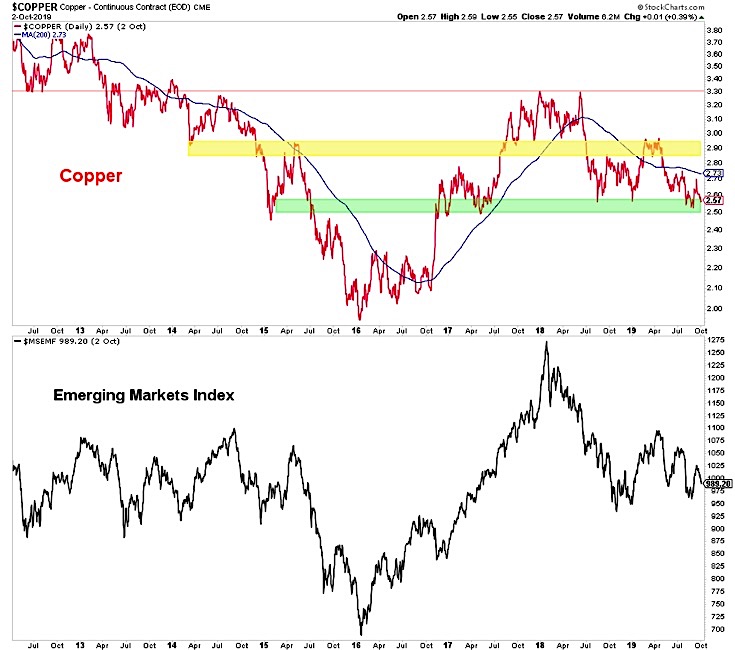 Declining bond yields and rising geopolitical uncertainty have helped fuel this year's rally in gold. As gold moved to its highest level in six years, excessive optimism emerged. Now, gold is consolidating its breakout and optimism is waning. With economic and political uncertainty remaining elevated, gold is likely to continue to attract interest.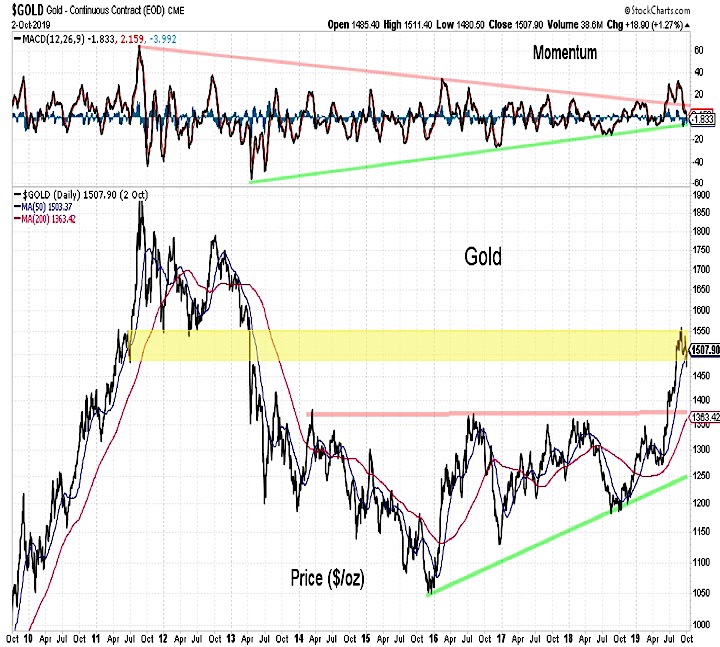 Bond yields in the US and overseas (Germany) are moving lower, but have not made new lows. This is consistent with the message from Copper. Lower lows in terms of bond yields could suggest that economic conditions have deteriorated further. A sustained drift higher in yields would suggest that the worst of the global economic slowdown is receding in the rearview mirror. A move toward positive territory for German yields would be a particularly encourage sign that global conditions have stabilized, if not improved.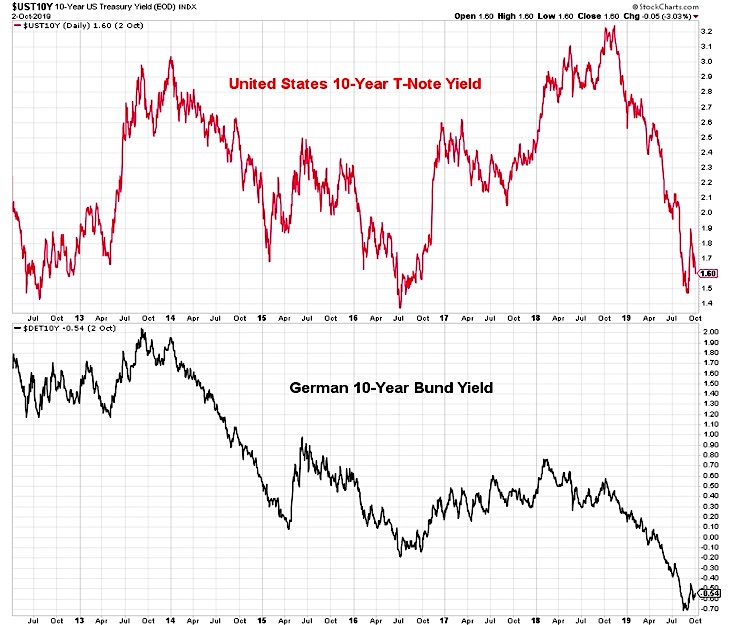 Twitter: @WillieDelwiche
Any opinions expressed herein are solely those of the author, and do not in any way represent the views or opinions of any other person or entity.