On January 1 we highlighted that "in our opinion, 6JH6 is the single most important currency to watch in 1Q 2016" (i.e. Japanese Yen Futures). What peaked our attention is the fact that after a prolonged trade in both price and time, yen futures settled above our proprietary measure of quarterly trend for the first time in five quarters.
So, what is quarterly trend?
It is a simple measurement of the price at which market supply and demand are in balance. Why is quarterly trend important for Japanese Yen futures?
Historically, yen futures have trended in the same direction once quarterly trend has been surpassed. Below is a quarterly candlestick chart covering the period from 1Q1978 through 1Q2016; 152 quarters of data. As is apparent from the chart, once the yen starts moving it tends to keep moving in the same direction.
Japanese Yen Futures Quarterly Chart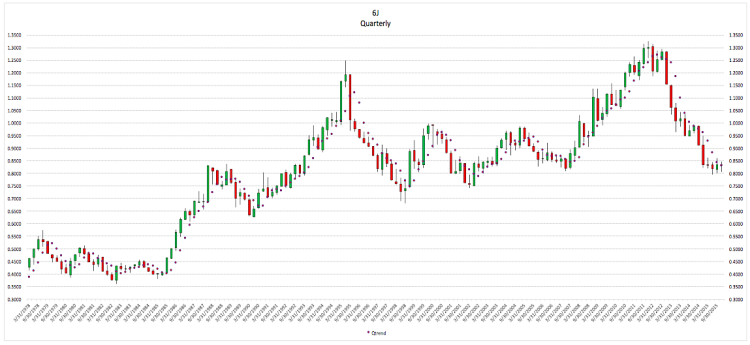 The next chart measures the duration, in number of quarters, that yen futures settled consecutively above or below quarterly trend. The quarters which saw no follow-through are circled; they total 11 of 152, or 7.2%. Conversely, 92.8% of the time Japanese Yen futures see at least one quarter of follow-through once settling above or below quarterly trend.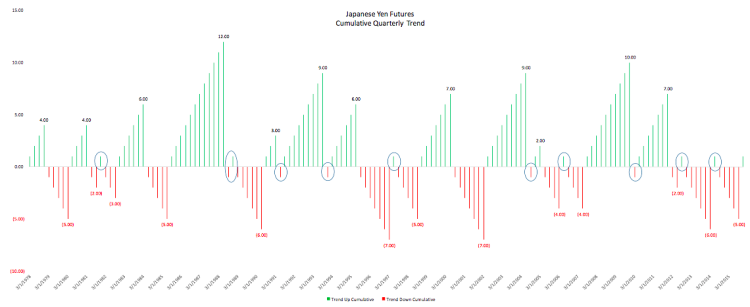 Our model purchased Japanese Yen futures on the December 2015 close at 0.83325. As of February 11, they settled at 0.89045; a gain of 6.86%. Anticipating follow-through in trend, our model will carry the position versus a current break-even stop.
Thank you for reading and have a great week.
Twitter:  @Techs_Global
The author has a position in the mentioned security at the time of publication. Any opinions expressed herein are solely those of the author, and do not in any way represent the views or opinions of any other person or entity.