Over a week ago, I featured a few commodities ETFs:
GSCI Commodity Index (GSG), the US Commodity Index (USCI) and the DB Agricultural Fund (DBA).
At the time, I focused on how those charts are a reliable barometer on whether China will buy US ags for real.
What we have been talking about all year is how undervalued commodities are relative to how overvalued equities are.
Today, all 3 ETFs exploded after the Aramco actual explosion. And the United States Oil fund ETF (USO) rallied nearly 14%. Sugar, corn, and wheat also rallied.
Over the weekend, we looked at the silver chart and the silver to gold ratio.
I wrote, "Now, the ratio is still holding above the longer-term or black moving average but has failed the red line. That means that silver is back to underperforming gold in the near-term.
That makes the decision relatively easy as to when to get back into silver.
Once the price either tests the black line (possible), or even more probable, returns over the red line, that will be a good indication it's safe to get back into silver and gold too."
Today, silver and gold rallied as well. The Silver ETF (SLV) returned over the red line.
How could this oil move impact the other commodities? Let's look at the charts…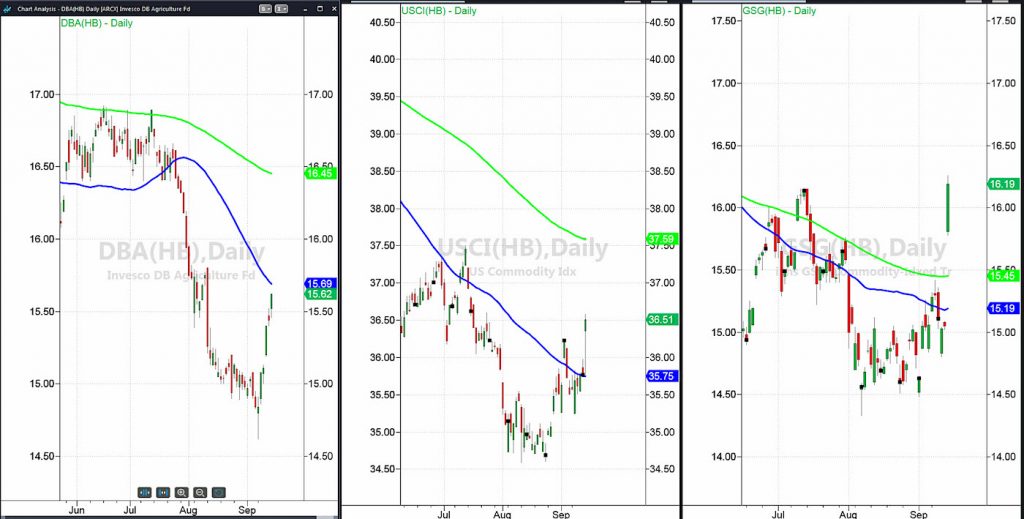 The far left chart is DBA. The ETF turned around, first on rumors of China buying soybeans, and then on the fact they did buy.
Today though, the rally is for a different reason. Corn and sugar are used for ethanol production. Ethanol is considered a renewable energy source.
DBA approaches resistance at the 50-DMA or the blue line. Therefore, I would like to see some consoldidation now between 15.40 and 15.60 before it clears.
With the negative slope on the 50-DMA, I would not go in like gangbusters, but I would consider a weekly close over 15.80 positive.
In the middle is USCI. With gold and oil as part of its basket. USCI handily cleared the 50-DMA. Plainly put, I like it. Any move closer to 36.20 reduces risk.
The far right chart is GSG. With the most liquidity of the 3, it's not surprising that that flew today over both the 50 and 200-DMAs (green line.)
Yet, I would not worry about missing the bottom. If this is good, consolidation over 15.65 and then a move over 16.27 can take this to 18.50 and above.
As far as Silver SLV, it had an inside day today.
I'd watch 16.70 for nearest support with a move over 16.95 a positive.
Should rates drop (FED meeting soon) and especially if the dollar falls after strengthening today, think about this.
(Also add into that thought process, geopolitical concerns.
40 years ago, or our last period of inflation, gold traded up to $850 an ounce. Today, it trades at $1500 an ounce.
40 years ago, silver peaked at $50 an ounce.
Today, it trades at $17.90.
Do the math.
S&P 500 (SPY) Since it could not close over Friday's low at 300.41, it sets up for more downside.Some support at 298, but under that can see 295 quickly. And only a move above the new ATH negates the pattern.
Russell 2000 (IWM) 154.50 now the closest pivotal support. 160 resistance.
Dow (DIA) ATH 273.99 made in July. 270 is support.
Nasdaq (QQQ) 191 support to hold or we see 189.50 fast. 195.55 ATH.
KRE (Regional Banks) 53-55 the range now to watch.
SMH (Semiconductors) 120 support and ATH 123.56
IYT (Transportation) 190.00 pivotal support and 200 overhead resistance.
IBB (Biotechnology) 105 or the 50-DMA cleared for an unconfirmed recuperation phase. Ahh, the public-they come here to play-but is it too late?
XRT (Retail) 44.00-we will see if this spells the top of the move or not. So far, yes.
Twitter: @marketminute
The author may have a position in the mentioned securities at the time of publication. Any opinions expressed herein are solely those of the author, and do not in any way represent the views or opinions of any other person or entity.