One of Wall Street's darlings has been getting a lot of attention: GoPro (GPRO). If you've been following the GoPro stock, you know that it has fallen from the good graces of investors recently and is no longer that IPO darling from a year ago. From an all-time high of $98 to recent lows of $31, GoPro stock is no longer a favorite growth stock.
Barron's ran a tough story on GoPro (GPRO) recently. They have been likened to Blackberry as well. Ouch. Those are usually contrary indicators, so I'm sure that even more pro traders are following along. And that probably makes it even more tricky.
So what's been working against GoPro stock?
Sentiment – Investors and media are starting to pile on. It has been harsh, but traders have yet to see a bullish hammer reversal.  In short, capitulation selling followed by an intraday reversal gives traders an ability to buy the stock and set a sell stop at the lows (good risk/reward).
Momentum – The stock was blasted again yesterday. It is oversold, and perhaps this will help momentum make a turn. But it hasn't quite yet.
Seasonality – Ryan Detrick wrote a great post about market seasonality for this week (September post OpEx). In short, it is not a good time seasonally for stocks. As well, the coming weeks may be volatile as well.
Technically speaking, you can see on the daily chart that GoPro stock is nearing new lows, it bounced a bit recently due to it's deeply oversold state. If it could make a turn higher around $28-$30, it might be able to put in a mild RSI divergence. As well, be sure to read James "Bart" Bartelloni's piece on GoPro. He suggests that $27-$29 is a very important level. That's roughly $5 away (15 percent).
On the weekly chart, the stock is also oversold (hovering around 30 RSI). It is on bar 6 of a DeMark buy setup, implying that a bottom may not come for a few weeks. Even if that isn't the case, it is one more reason to wait for a bullish signal.
GoPro Stock Chart (GPRO – Daily)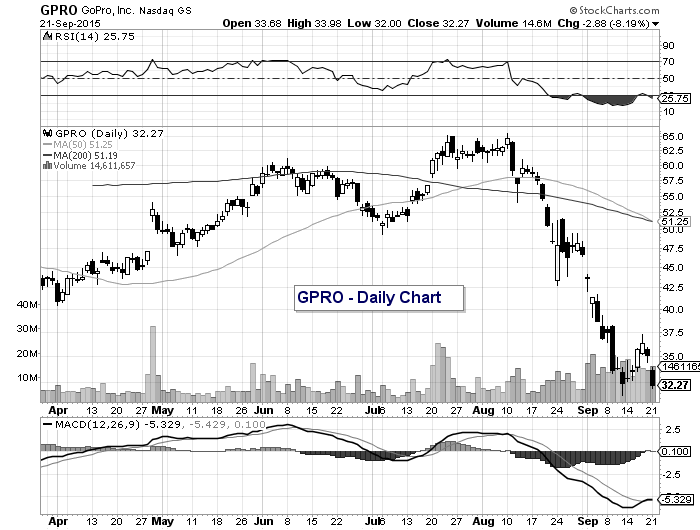 GoPro Stock Chart (GPRO – Weekly)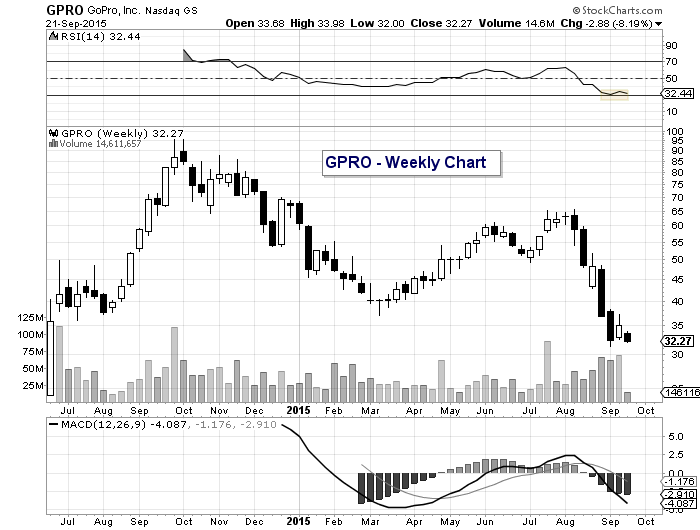 As most traders are aware, picking bottoms is a tough game (especially without sell stops).
To get involved with GoPro stock, an active investor clearly needs to have a plan and set his/her discipline level (i.e. stop, risk/reward). Waiting for a bullish reversal or a "gap and go" to enter is likely the safest way. That way you make the stock prove itself. Something it has yet to do.
Thanks for reading.
Twitter: @andrewnyquist
The author does not have a position in any of the mentioned securities at the time of publication. Any opinions expressed herein are solely those of the author, and do not in any way represent the views or opinions of any other person or entity.