Tactically speaking, the Financials sector, via the Vanguard Financials ETF (VFH), has taken off from a relative strength perspective versus the S&P 500 and broader stock market. And at the same time, its daily price action is testing key resistance, which could lead to a breakout to all-time highs. All of this has brought the Financials sector back to the forefront of market conversation.
This becomes even more interesting because a breakout could ignite even more interest in the sector, which could have bigger implications to the longer-term strength of this sector ETF, and the broader market.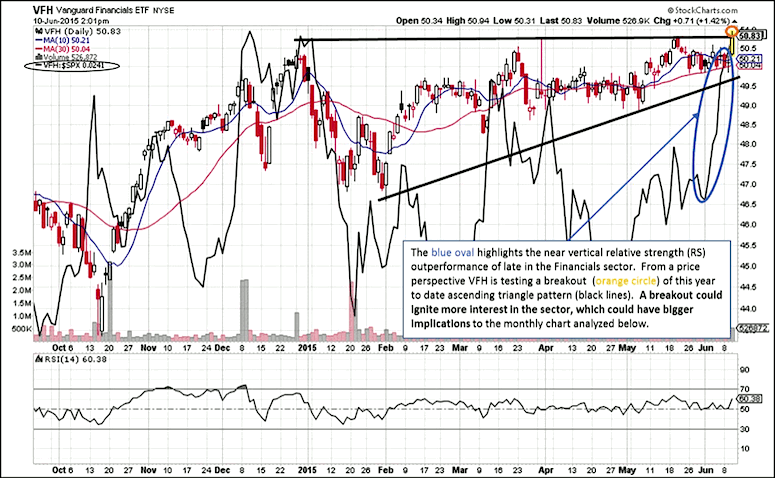 Relative strength analysis can be an invaluable tool to track which areas of the market money is flowing in and out of as investors and traders look to outwit the competition in their search for alpha.
With that said, I believe that the longer-term chart highlighted next could be one of the next major stories to unfold in the area of sector rotation.
Looking at the chart below, it's important to make note of the the relative strength line and the pattern that has begun to develop since late-2010. In my view, this has the makings of a large bullish "cup and handle" type of pattern. VFH now is pushing up against its neckline resistance. A convincing relative strength breakout could set into motion a sustainable assertion of longer-term leadership in the Financials sector. Keep in mind that this is a monthly chart, so tactical rotation varies, but a breakout and ability to maintain that breakout level implies that any RS weakness would be an opportunity to re-enter the sector in a quest for outperformance. Now we have to wait and see if we get that breakout.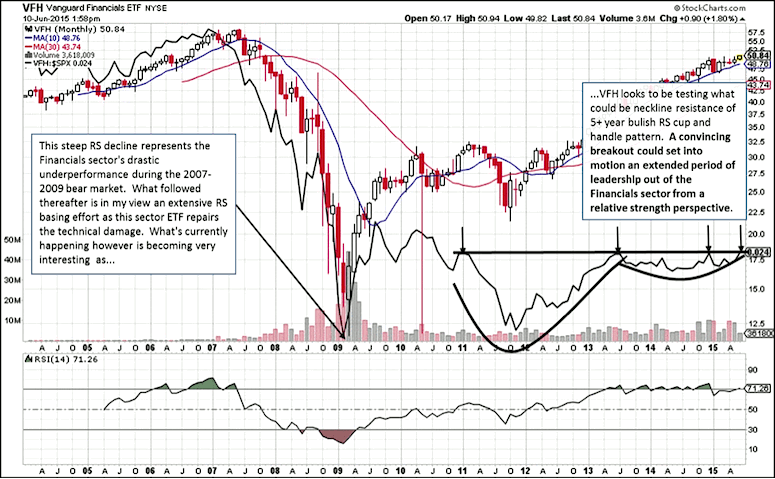 Thanks for reading.
As a personal disclosure, I do not own or have a direct financial interest in any security mentioned.  Although I am affiliated with T3 Trading Group LLC, opinions reflected are my own and should not be considered as investment advice.
Twitter: @jbeckinvest
Any opinions expressed herein are solely those of the author, and do not in any way represent the views or opinions of any other person or entity.