Since peaking in June around the $106-$107 a barrel level, it's been all down hill for Crude Oil prices (WTI – Quote). And much of the momentum phase of the decline occurred in late September after failing to hold onto the $90 area.
Fast forwarding to today, and Crude Oil is sitting around $56. Current prices have broken through the last Fibonacci retracement 78.6% ($57.1415) of the January 2009 through April 2011 uptrend. Failure to stabilize in this area may open the door to further downside pressure. The next area of significant support is 41.68 (the January 2009 low). This happens to coincide pretty closely with a retracement of 78.6% ($38.77) of the move off the 1998 bottom to peak crude oil prices in 2008. See chart below for reference.
Crude Oil Prices – 20 year Chart
So the debate continues as to whether the decline in energy prices is good for US consumers?  Short-term, the answer is yes. But could the decline in crude oil prices be the last of the commodity shoes to drop, in turn signaling deflation?
Certainly US Treasury yields are signaling deflationary pressures as yields continue to drop and prices of treasuries are continuing to rise. However, equities continue their upward bias and continue to outperform the long bond (USB) on a relative basis since the 2009 bottom. The takeaway is that until more weight of the evidence emerges, equities are the favored asset class and seasonally we are in the sweet spot for equity markets. See additional charts below.
S&P 500 Long-Term Chart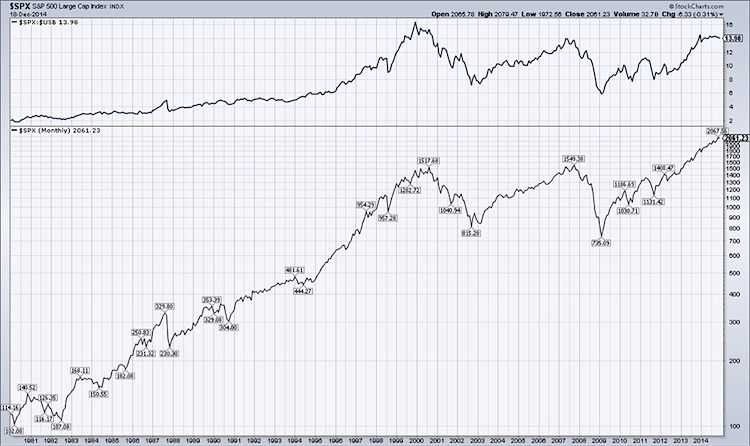 30 Year US Treasury Long-Term Chart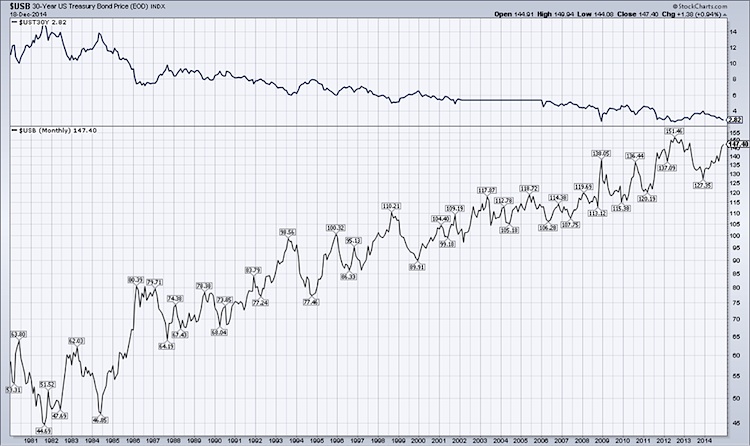 Thanks for reading and have a great weekend.
Follow Karl on Twitter:  @Snyder_Karl
No position in any of the mentioned securities at the time of publication. Any opinions expressed herein are solely those of the author, and do not in any way represent the views or opinions of any other person or entity.