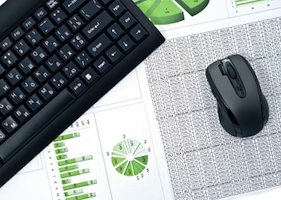 Guest Blog by Minyan JR

The thing about budgeting is that it causes a degree of pain to the end user usually associated with trips to the dentist. Traditional budgeting requires planning and structure. The bulk of the effort is spent organizing historical data, slotting it into logical slices of time, and then presenting it in a very pretty presentation for the home CEO.
This will give you a perspective of my view and feel free to call it what it is [insert adjective here]:
Checking Account Ledger Budgeting
Budgeting activities take the most valuable of our resources, time. The Checking Account Ledger (CAL) budgeting method is quick, and gets you through the month. And it will get you through on a month to month basis, but it is only as forward looking as your checkbook ledger. Two months of cash flow budgeting is about the most I have found manageable. However, two months is better than zero months. And if you continue to roll the effort each month, then before you know it you will have some history built, with logical periods of time and possibly the method to present it.
This simple activity can be completed on paper, in Excel, and/or using financial software like Intuit's Quicken (author's preference). Considering you would like to be able to make changes quickly and easily, I do recommend software to do it. Not having used a financial aggregator service like Mint, from the website it appears that it uses historical data for building your budget; this may also be a method to explore.
However, for the CAL budgeting activity, you will start with your real time checking account balance. It then becomes two simple steps:
Pre-build income transactions into the ledger for the month.
Pre-build expenses transactions for the month.
By pre-building transactions, you will have an idea of what the end of month cash flow will be. Your online bank statement won't lie to you, but your handwritten ledger and your memory might. Having the flexibility to change entries as you get clarity is important.
Here is our example using a Quicken checking account:
A starting bank balance of $1000, Net Salary of $2000 paid on the 15th and 30th. Payments for mobile $150, grocery $500, credit card principal/interest $250, savings $250, metro/train $150, rent $900.

And there you have your Checking Account Ledger (CAL) budget showing your projected month ending cash of $2200. As circumstances change, adjust the totals of your payments to exact figures and match your bank balance. As you get closer to mid-month, you can begin projecting out into the following month and "roll out" your cash flow projection.
It certainly is not a perfect process, but it is a process to get that spending track right in front of you. It will keep your bank balance out of overdraft, and your bills paid on time. You may even notice there is a surplus to pad savings, or pay down additional debt. And debt reduction is a great way to start 2012. Happy New Year, Minyan JR
About Minyan JR:  A personal finance specialist, endeavoring to track every penny earned, spent, saved, and invested since graduating from college, Minyan JR's goal is to inspire financial independence through the use of technology all while enjoying the ride.  He is also a long hedger and opportunistic trader; a student of the market not using other people's money.  Minyan JR has also been published on Minyanville blogs.
———————————————————-
Any opinions expressed herein are solely those of the author, and do not in any way represent the views or opinions of his employer or any other person or entity.
Be sure to "Like" See It Market on Facebook to keep up with current news and updates on the site.